Ring! Click! Buzz!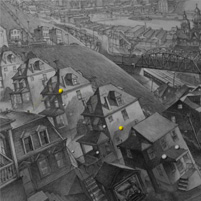 Pittsburgh is home to some of the world's best pinball players.
And hundreds of them have gathered in nearby Scott Township for one of the Professional and Amateur Pinball Association's biggest pinball tournaments.
Muralist Doug Cooper (A'70) animated his well-known Pittsburgh mural to be the backdrop for the event.
Cooper, the Andrew Mellon Professor of Architecture at Carnegie Mellon University, is famous for his large illustrative panoramas of Pittsburgh.
He recently animated his local landscapes in his first short film called "Pinburgh."
In the film, a streetcar passenger sees a dancer on city steps entering a bar. Inside, someone is playing pinball, which eventually activates a citywide game of it.
Most scenes use static hand-drawn backgrounds into which green-screened action shots have been layered.
The green-screen filming of live actors required the construction of a suite of street furniture, including a stair, a ramp and a bench.
The collaborative project features Ryan Melia, Arya Shahi, Ben Ferguson and Dan Weschler — seniors from CMU's School of Drama behind the theater group "PigPen."
The group acts in the animation and created the musical score.
Ryan Woodring (MFA'10) edited the green screen sequences and was the film's compositer. School of Architecture students Shawn Cencer and Greg Tanski created the 3D modeling for the film.
The film has received early critical acclaim — winning prizes at several film festivals — and was featured in the Black Maria Festival, a prestigious traveling film festival.
Cooper has a 200-foot long mural of Pittsburgh in CMU's University Center.
He also has murals at Pittsburgh's Heinz History Center, the Philadelphia Courthouse, Seattle's King County Courthouse, the University of Rome and in Education City in Doha, Qatar.
He is the author of Steel Shadows and Drawing and Perceiving.
Related Links: About Cooper | School of Architecture
---