Got Songs?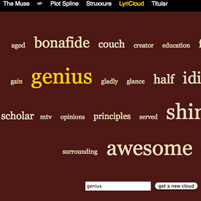 As any songwriter can tell you, a clever lyric or title can be hard to come by.
Burr Settles is one of those songwriters. He's also the Carnegie Mellon University computer scientist who has developed two tools for overcoming writer's block.
Stuck on a song title? Titular generates titles for popular music.
Looking for a memorable lyric? LyriCloud makes lyrical suggestions based on words selected by the user.
Found at The Muse, they're more than rhyming dictionaries or random word generators.
These computational tools use lessons gleaned from analyzing thousands of existing songs to make suggestions that are both novel and meaningful.
"Writing lyrics that succinctly tell a story, express emotion or create an image in the listener's mind is challenging," said Settles, a post-doctoral fellow in the School of Computer Science's Machine Learning Department.
Settles' research at CMU includes projects like the Never-Ending Language Learner (NELL).
He specializes in "active learning." In this type of machine learning a computer program asks humans for guidance when it is confused or unsure of something.
To create the linguistic models for Titular and LyriCloud, Settles extracted 137,787 songs by 15,940 artists from online lyrics sites.
For Titular, he used natural language analysis tools to tag each word in the titles based on its part of speech. From there templates were generated to create new titles based solely on patterns in data.
So for example, a template such as "(adjective) (common noun)," for instance, might yield the title "Irish Rover." The template "you're so (adjective)" might yield "You're So Vain."
LyriCloud uses a word of interest to the songwriter, or 'seed word,' to come up with 25 related words arranged visually in a word cloud.
The word "dream," for instance, might generate possible modifiers such as "broken" or "deep."
"Even professional songwriters have trouble coming up with evocative titles or juicy words for the refrain," said Settles.
He draws from experience as a guitarist in the Pittsburgh pop/rock band Delicious Pastries.
Settles was motivated to create Titular and LyriCloud through an international songwriting event he helped launch.
Since 2004, 'February Album Writing Month' (FAWM) has challenged participants to compose 14 new works of music in a month.
In other words, put together an album in only 28 days.
Last year, 4,000 people — a.k.a. "fawmers" — registered for the event and generated more than 10,000 new songs.
Related Links: Read Article: Pittsburgh's Tribune-Review | FAWM.org | The Muse | Machine Learning | School of Computer Science
---