Notes on a Legacy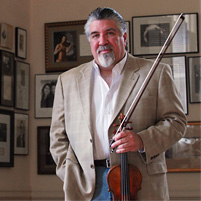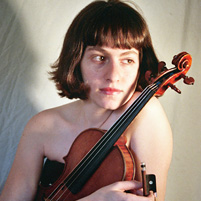 On June 16, 2011, the world's most prestigious violin event — The Tchaikovsky Competition — will take place in St. Petersburg, Russia. And selected for this year's jury is one of Carnegie Mellon University's own: Professor Andrés Cárdenes.
"I'm very excited, very honored," said Cárdenes. "It's an affirmation of a lifetime of work. It's also a great thing to represent Carnegie Mellon on the jury and I'm going to carry the flag very prominently."
Cárdenes, an internationally-acclaimed musician, joined the music program 21 years ago, eager to help CMU achieve its present status as a first-rate university School of Music.
His current student, Molly Baer, joined CMU more recently but with similar enthusiasm.
Baer came to CMU from the New England Conservatory to pursue a graduate degree in performance under Cárdenes' tutelage.
"Mr. Cárdenes has been an amazing and encouraging teacher for me," she stressed. "I'm constantly in awe of his incredible technique and unique, beautiful sound."
"Molly is an extremely talented young violinist and even more importantly, a gifted musician," Cárdenes noted of his pupil. "There are a lot of people who play the violin well - not a lot who feel and understand music. When you have a student like that, it's a joy."
Cárdenes maintained his CMU position while serving as concertmaster of the Pittsburgh Symphony Orchestra, an appointment he also held for 21 years until his resignation just months ago to pursue other interests.
He noted, "One of the School of Music's greatest assets is that the Pittsburgh Symphony is right there with the greatest symphonic players in the world."

An instructor since the age of 19, Cárdenes believes in devoting time to each of his 10 students.
"Teaching is a monumental commitment and you must dedicate yourself to every single student," said the Dorothy Richard Starling & Alexander Speyer Jr. University Professor of Violin.
He added, "I'm very fortunate to come from an incredible lineage of great violin players and teachers all the way back to Corelli in the 17th century."
"I have always felt a huge responsibility and obligation to share my knowledge and pass it on — not only the technical and musical aspects, but also the oral history of violin playing," said Cárdenes. "It's a very important part of my life to keep this lineage alive."
Baer hopes to follow in her professor's footsteps.
"Mr. Cárdenes is a very special teacher," said Baer. "He is indebted to and humbled by the legacy imparted by his teacher, and is dedicated to passing that legacy on to his students."
She added, "It's not often that someone of his stature is so generous and giving."
Pictured: (top) Prof. Cárdenes dedicates himself to passing on his knowledge to each and every student; (bottom) Molly Baer calls his commitment "generous and giving" and hopes one day to follow in his footsteps.

Related Links: Cárdenes' Bio | School of Music
---