Hittin' a High Note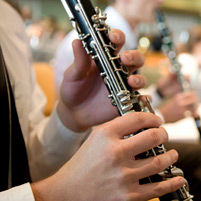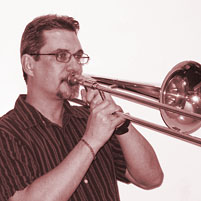 Mark Snyder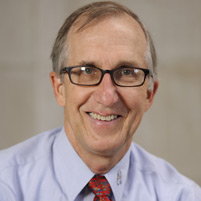 Paul Gerlach
Like a familiar refrain, memories of being a student at Carnegie Mellon University came flowing back to Mark Snyder as he entered the Alumni Concert Hall.
Snyder (A'92'93) is a trombone player who teaches third through eighth grade instrumental music.
He returned to campus with his class of sixth-graders to perform at the
School of Music's
annual High Note Festival.
"It's a great profession for a musician," said Snyder. "I started out as a performer, and now I get to share those experiences with students. I get to write some things for them, too." 
The event doubled as a reunion of sorts. Snyder walked in to find his former professor,
Paul Gerlach
, there as a judge.
Snyder recalls Gerlach as always being "very organized and professional, very knowledgeable about his subject. He had a down-to-earth way of teaching."  
With a lot of music programs fighting for their existence, Gerlach advocates for music being an integral part of a child's education — with rich performance experiences available to all students.
"The purpose of the High Note Festival is that it's good to go to a different location and play in a different venue," Gerlach explained.
"It's very important that the children be heard by impartial adjudicators who are not familiar with them. We offer them comments and suggestions that we hope will be meaningful to them."
Snyder's class received a "superior" rating and a trophy for their performance.
"It's very cool," said Snyder. "I see these kids pick up an instrument at the start of the class, and they don't know how to hold it or which end to blow into. And then by the end of the class they're playing well. It's very rewarding."
Snyder, who chose the university after just one lesson with a CMU instructor, says the university offers an exceptional education.
"And it's a small enough school that I got to play in everything. Orchestras, jazz bands, small chamber groups. And it was in Pittsburgh, which is a great place to start getting your feet wet as a performer."
Snyder currently plays with a local act known as
Dr. Zoot
. And he has played with many others, including Pittsburgh's symphony, ballet and opera orchestras.
He even went on the road with
Glenn Miller
.
Snyder says returning to his alma mater made him feel like a student again.
"It brought back memories. The feel and the vibe in the Alumni Concert Hall is the same. And hearing the students playing in the practice rooms trying to learn, practicing, in the mezzanine?  I was one of those kids."
He added, "A lot has changed, but a lot still feels the same."
Related Links: School of Music | College of Fine Arts
---