Aura of Success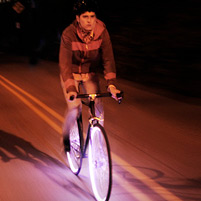 Two glowing white circles speed by in the night. They're unmistakable — the illuminated wheels of a bicycle — and clearly alert traffic and pedestrians.

Jonathan Ota and Ethan Frier hatched the idea last year as Carnegie Mellon University sophomores. Both avid bikers — Ota commutes by bike to campus — the industrial design majors understood the need for visibility.

"We noticed that current products illuminate bikers from the front and rear, but do little from the side," explained Ota. "They also do little to differentiate bikers from the environment, especially in the city with so much visual confusion."

Thus was born Aura — a system of tri-color LEDs attached to the bike wheels, powered by pedaling. Move faster, and the lights change from red to white, giving a clear sense of speed and motion.

"We wanted to make a cool product that people will want to use, and in the process of using it, will make them safer," said Ota.

To pursue their idea, the pair was awarded a Student Undergraduate Research Grant (SURG) — small grants funded by contributions to CMU supporting undergrad research.

"The SURG made our project possible," Frier noted. "In design, you are always coming up with fantastic ideas, but as students, we are often limited financially to fully pursue them. The SURG allowed us to explore our idea to the fullest extent."

The students thought their final video would spell completion of the project, but 110,000 page views later they thought again. Now, after winning the student category for transportation design in the Core77 Design Awards, they're looking to commercialize.

And the help of CMU's Greenlighting Startups, a collection of five campus incubators providing resources that take campus innovations to sustainable businesses, has been invaluable.

"The resources at Carnegie Mellon have made the process accessible," said Ota. "There are actual people you can talk to who are familiar with what you're going through."

"The Technology Transfer Office helps you get in touch with experts in your field. Project Olympus, another great resource, offers very welcoming, warm and neutral third-party advice. These connections can propel the project from an amateur hack to a robust commercial product."

The budding entrepreneurs are currently in the process of filing a patent and analyzing their options, including licensing vs. manufacturing. They're also seeking funding.

"Before Project Aura, Jonathan and I weren't considering a startup, but the success of the project has introduced us to a new landscape," said Frier. "The resources on campus have made it possible, from the SURG, to Greenlighting Startups, to the willingness of the faculty to take the time to help. I honestly don't think we could have done this project anywhere but at Carnegie Mellon."
Related Links: Video: Project Aura: Bicycle Safety Lighting System | Blog | SURG | Greenlighting Startups | Jonathan Ota | Ethan Frier | Industrial Design
---