Watch Them Make a Movie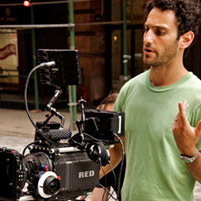 Seth Fisher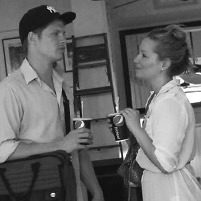 Alex Cendese and Marie Lynn Wagner
A trio of alumni from the class of 2004 are shooting a micro-budget feature film in New York this summer.
And you get to experience the process.
Written and directed by Seth Fisher (A'04), the filmmakers are blogging every step of making Passing Harold Blumenthal.
Set in New York City, the comedy follows a family as it deals with a famous uncle's death.
Alexander Cendese (A'04) joined on as producer and Marie Lynn Wagner (A'04) is serving as production designer.
"That period between school and now, when we all went our separate ways, was critical to what we're able to accomplish now," said Fisher.
"It's amazing to see how each has grown and what each can bring to the table."
Wagner agrees.
"Each of our experiences separately is helping us round out the whole," she said.
"I trust any one of my classmates from CMU. It's like you grew up together. You know to expect a certain caliber when you find out someone is from CMU," Wagner said.
Fisher has worked with actors and directors from CMU.
"There's a common language, a common approach, and a sense of camaraderie," he said.
"I think when you're in the thick of things at school, it's hard not to have a bit of competitive edge. Then you find yourself in the real world and you see that what's good for one is good for everyone," he said.
The group raised the money for the project on Kickstarter.

"It was a large amount of money to crowd-fund, and that in and of itself is a nice feat," said Cendese.

Fisher likes the Kickstarter platform, referring to it as "a very classy way to digitally pass the hat."
"You set a financial goal and people can donate. They only have to donate if you reach your goal," he explained.
Filming begins on June 6th. Once the movie is completed, they'll submit the final cut to festivals, get a sales rep and talk to distributors.
"If there is any advice I can give, based on what CMU instilled in us, it is the commitment to 'do,'" Fisher said.
"It's the proactive approach. You don't need rain-down opportunities. Between you and your CMU education, you've got everything you need. It's the classic CMU story. Nothing can stop you."
Related Links: School of Drama | School of Design
---