Spring Carnival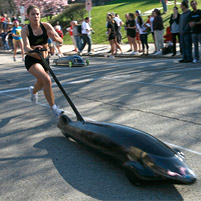 Buggy races
Whether you're cheering on the teams at Buggy, getting lost in the creativity of the Booths, or catching a Scotch'n'Soda production, Spring Carnival & Reunion Weekend at CMU is sure to put a spring in your step.
This year's opening ceremony, took place at 3 p.m., Thurs., Apr. 14, on the Midway (look for the Ferris Wheel), and included remarks by CMU President Jared L. Cohon and a performance by the university's Kiltie Band.
This year's Booths — often reaching two stories in height — were created around the theme "When I Was Your Age..."
Built by student organizations, there are 27 this year. Titles include "... I Had To Walk Up Hill Both Ways," "Ye Olde School For Young Astronomers," "Scooby Doo" and "Teenage Mutant Ninja Turtles."
The University Center is the place for alumni to stop for weekend passes and Spring Carnival souvenirs. Check-ins are also available at the Buggy finish line on Frew Street or the Midway. Those who check-in will also be one step closer to becoming a Loyal Scot.
Thursday evening, the School of Drama's production of The Alice Project and Scotch'n'Soda's production of Cabaret both opened. Performances continued throughout Friday and Saturday.
The Alumni Association hosted an All Campus BBQ on Friday in the Merson Courtyard.
Buggy activities also kicked-off Friday morning, but due to rain, were canceled for Saturday. Final results can be found on cmubuggy.org.

For the uninitiated, Buggy is a modern-day, aerodynamic soapbox derby complete with student-designed, built and powered cylinders racing through campus (at impressively high-speeds).
cmuTV streamed full-scale event coverage of the buggy races. The student radio station, WRCT 88.3 FM, also provided live interviews and play-by-play commentary.
A fireworks show is scheduled for Sat., Apr. 16, in Gesling Stadium. It'll be a debris-free, close-proximity pyrotechnics show format this year. But parking will be restricted in sections of the East Campus garage as a precautionary measure, so leave plenty of time.
For a full list of events and event details, visit the Spring Carnival Website and the Alumni Association's Carnival Schedule of Activities.

Related Links: Spring Carnival | Alumni Association's Schedule of Activities | School of Drama: More Info | Scotch'n'Soda
---