Showcase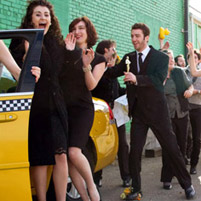 For many, the robin is the first sign of spring. For actors in Carnegie Mellon University's School of Drama — it's Showcase.
"Showcase is an incredible opportunity for new graduates to be seen by the most notable managers, casting directors and talent agents in the business," said CMU's Ingrid Sonnichsen.
Sonnichsen is an associate teaching professor of acting and coordinator of this year's event.
The east coast Showcase was held in early March in New York City. On May 3-4 the actors will try their luck in Los Angeles.
Students in the New York Showcase are interested in theatrical roles as well as film and TV. So the musical theater students sing as part of their presentations.
Since the L.A. Showcase is geared more toward television and film, those students substitute monologues for songs. And a few of the more 'theatrical' scene choices are traded out for material from television and movies.
"Most of the material is funny in nature. And the pieces are short — two-minute scenes, one minute monologues. The entire program is about an hour and fifteen minutes in length," explained Sonnichsen.
"This is a very popular format because it's short, entertaining and efficient."
The industry representatives who attend are handed a response sheet for during the performance.
It features a small photo of each actor and checkboxes for the agent to indicate interest in headshots or an appointment.
And it works. Many CMU actors can trace their big break back to Showcase.
"Ian Harding (A'09) — a regular on Pretty Little Liars — and Joe Manganiello (A'04) — who appeared in Spiderman — both moved into film and TV right out of contacts made in the L.A. Showcase," Sonnichsen noted.
"And the New York Showcase can boast the success of many Broadway stars," she added.
Among them:
Lora Lee Gayer (A'10), who will appear in the upcoming production of Follies;
Hunter Herdlicka (A'09), who stars alongside Angela Lansbury in A Little Night Music; and
Kyle Beltran (A'09), from In the Heights
Related Links: Showcase | School of Drama
---