Pirates of the Caribbean
Interview with Roger Rouse
Rouse's Lecture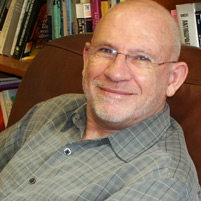 Roger Rouse
Movie-goers have long awaited the return of Captain Jack Sparrow, as the latest installment of Disney's "Pirates of the Caribbean" hits theaters.

"On Stranger Tides," the fourth in the series, is directed by Carnegie Mellon University alumnus Rob Marshall (A'82).
CMU's Roger Rouse is using the Pirates films as a tool to teach history.

He encourages students to look closely at what the films say — and don't say — about the period they represent.

When Rouse, an associate teaching professor of history, started teaching global history at CMU, he recognized his students' familiarity with the movies as an opportunity.
 
He led them to an exploration of what the films fail to examine — the roots of the democratic piracy during the 1690s to 1720s.

"I wanted to meet them where they were so that I could take them places they had never been," Rouse said.

"We think of the films as escapist entertainment, and of course there are a lot of things that are enjoyable about them — sly cheeky humor, lots of action — but they are also forms of teaching," Rouse explained.
"They try to point us towards acting, or not acting, in particular ways in the present by shaping how we think about the past."

Rouse encourages students to ask themselves: What are the movies teaching us? What parts of history are they leaving out? 

Case in point: the films begin in Jamaica during the time when it is believed that democratic piracy was at its peak.

"They cast it as a struggle between the British elites and pirates," he said, "but what they don't tell you is why the British wanted to control the seas."

Rouse explains that the British desire to control the seas at that time was rooted in their desire to dominate the slave trade and plantations producing sugar and other goods in the region.

"And so there is a huge silence about why there is this struggle over the seas," Rouse said. "It's a struggle over the ability to profit from the plantation system and the slave trade." 

Encouraging us not to think about these issues in the past, he argues, encourages us to avoid thinking about how workers are treated today.

Maria Zayas, a senior in Modern Languages, said that Rouse's lecture on the subject helped her to see things in new ways.

Specifically, Zayas says she learned how historians' work influences popular culture by reflecting changing beliefs about the social landscape.

"Jack Sparrow can be seen as Johnny Depp's take on Keith Richards as a pirate," she said, "but for historians, he can be seen as the push and pull between different social forces."

Rouse's own work is much more about how Disney, as he puts it, hijacks the history of rebel piracy and uses it to encourage conformity to the interests of capital in the world today.

"Our ability to think about how we could do better as a society is really inhibited by the ways in which the more embarrassing sides of our history have been hidden from us."

Now, as Jack Sparrow says, bring me that horizon.
Related Links: Watch: interview w/ Roger Rouse | Watch: Rouse's Lecture | College of Humanities & Social Sciences | Dept. of History
---