Pop Cabaret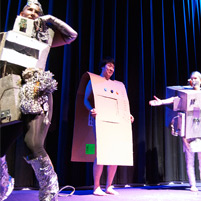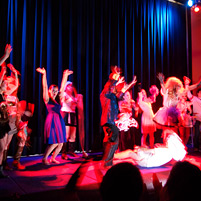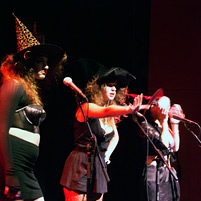 Students in Carnegie Mellon University's School of Art have been creating short solo and group performances this semester in the first floor theater at the Warhol.

"Pop Cabaret: Performance Art at the Andy Warhol Museum," an advanced level electronic and time-based media course, is a first-time collaboration around a college course for the Warhol and Carnegie Mellon.

Associate Professor of Art Suzie Silver teaches the course and draws from her personal background in performance art for the class.

In this unique classroom/museum format, the students perform Pop Cabaret inspired by vaudeville, dance hall and burlesque, Futurists, Dada, some Fluxus and Pop Art, and the downtown New York City performance scene of the 1980s and 1990s.

Students recently presented "I Put a Spell on You," a free Halloween Variety Show.

If you missed it, you can see more performances when they present their closing holiday show Dec. 16 at the Warhol, which is located at 117 Sandusky Street on Pittsburgh's North Side.

Silver says the audience should expect humor and playfulness and at the same time intelligence and poignancy in the works presented, noting that there will be "some truly post-everything experiments."

"I thought it would be a good idea to get the students off campus, and music-educational curator Ben Harrison helped to make this possible at the Warhol," said Silver.

"Knowing they have to put on two big public performances this semester has been a fantastic motivator to keep students engaged and committed."

Silver explained, "The Warhol's environment makes it feel less like a class with traditional structures and hierarchies, and more like a performance troupe, like Mickey Rooney and Judy Garland getting all their pals together and exclaiming 'hey, let's put on a show!'"

Performers include Adelaide Agyemang, Harrison Apple, Julia Cahill, Murphi Cook, Kinji Cheri Ho, Chelsea Lupkin, Julie Mallis, Ippei Mori, Stephanie Ross, Tim Sherman, Ann Stone, Mitsuko Verdery, and Sonny Topaz as host.

With a strict focus on the performer and experimentation with multiple techniques, students are challenged to create stripped-down character studies and develop multiple acts of five minutes or less.

A typical week sees students generating and workshopping their solo and group performances.

"There are multiple reasons why we are focusing on club and cabaret type performances," Silver explained.

"But the Pop Art focus of the Warhol and the wonderful, permissive vibe that exists there reinforces that these are performances that can be done almost anywhere."
Related Links: School of Art | The Warhol | "I Put a Spell on You"
---