Life by Design
Bortman shepherded the visual design for YouTube's recent design experiment, Cosmic Panda.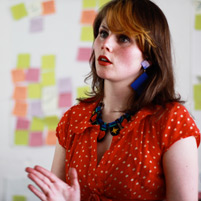 Rebecca Bortman
When Rebecca Bortman was 12, her aunt pointed out a wine bottle in the supermarket. The graphic designer had created the label — and Bortman suddenly realized that someone designed everything we see.

At that moment, she knew she wanted to be a designer.

At 14, Bortman accompanied her best friend to a brother's senior design studio at Carnegie Mellon University. She was "blown away" and set her sights on CMU.

True to her goal, she enjoyed the CMU pre-college program and Saturday art classes, then earned her BFA in 2006.

After stints at two boutique firms, Bortman is now one of only three visual designers at YouTube.

"My CMU education taught me how to design for any experience. Whether it's a person picking up a book or watching a video online," said Bortman. "We learned the principles of design and how apply them in a variety of different situations. It's a degree in creative problem solving."

Bortman is responsible for improving site-wide YouTube visuals.

"YouTube as a site doesn't have a strong personality and that's definitely on purpose — allowing the person who is uploading a video to project their own voice is a very important part of YouTube," she said. "As the Internet evolves, we want to keep YouTube's look current. It's a big undertaking."

Bortman shepherded the visual design for YouTube's recent design experiment, Cosmic Panda. Her team is hard at work understanding what elements work for the site and its users and how they can be applied more broadly going forward.

Bortman, active during college with comedy improv and her own cmuTV show, is equally engaged now. In her spare time, she's the singer and lyricist for her band, My First Earthquake, and art-directs The Disposable Film Festival.

And she's still strongly CMU-connected.

"There's an active alumni community here in San Francisco, in fact three of the four band members are alumni," she noted.

"I spent the spring break of my senior year in the Bay Area and got to meet to a bunch of alumni through our design program. I can't even tell you how warm and welcoming they were. They were excited to meet me even though I was just a student."

That community extends into her workplace, the Google-owned YouTube.

"Google really loves Carnegie Mellon students. There are a ton of graduates and this summer we had a whole batch of CMU interns."

She added, "The amazing creative community from CMU didn't end with college. I met some of my best friends there and they're now spread all over the world. It's an amazing way to jump start a creative life and career."
Related Links: Bortman's site | My First Earthquake | Disposable Film Festival | School of Design | Pre-college Programs | YouTube | Cosmic Panda
---