Holiday Concert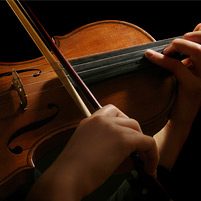 Each year, the Carnegie Mellon School of Music kicks off the holiday season with its annual concert.

And this year was no exception.

Carnegie Mellon University professor Robert Page conducted the sounds of the CMU Concert Choir, Repertory Chorus and Philharmonic in holiday favorites and lesser-known treasures.

"Many students, faculty and staff have told me that the Holiday Concert is really what kicks off the season for them," said Page. "I think it is due to the combination of the enthusiastic participation of the students and the music itself.  We program something for everyone." 

Carnegie Music Hall in Pittsburgh's Oakland section played host to the concert on Friday, Dec. 9, 2011.

The program featured Ralph Vaughan Williams' holiday oratorio Fantasia on Christmas Carols, featuring baritone Daniel Teadt, a member of the CMU voice faculty.
"It was an absolute thrill to work with Dr. Page as well the orchestra and chorus," said Teadt. "Because a handful of the chorus are also my voice students, I felt a great kinship with them and I believe there was a beautiful feeling of collaboration."
Teadt says Page insists on the integration of all elements of music-making into the process. 
"He demands great things, and the students responded with a performance that the audience adored," said Teadt.
For Teadt, there are no holidays without music. 
"I have songs, carols and whole albums of music that will instantly fill me with the holiday spirit and take me back to my childhood when my family would sit around the record player (and now I've dated myself) listening and singing along to our favorite tunes every Christmas," he said.
"It brought us closer and I think a concert like the one today had a similar effect on the CMU community.  We listened, communed and rejoiced.  I can't think of anything more festive than that."

Other highlights included the Pantomime and Scene from Hansel and Gretel, the Tom Scott a cappella arrangement of the spiritual The Story of the Twelve, and the Marvin Hamlisch favorite Chanukah Lights.

Adding to the evening's excitement, the concert was broadcast live on Pittsburgh's WQED-FM 89.3 with anchor Jim Cunningham.

"Frankly, I love doing this wide variety of music.  Chestnuts Roasting on an Open Fire with its nostalgia, its harmony and melody, never ceases to touch my heart," Page said.

"It isn't the same as a Sweelinck motet with its infectious Renaissance rhythm or the depth of emotion of a sonic creche, as in the Berlioz.  The spirit of the season is what I try to program: the Christian and Jewish traditions, always omnipresent and full of joy."

The holiday concert was part of a full day of College of Fine Arts events. From a tour of Miller Gallery to open studios to feature presentations, guests had a variety of art to explore.
Related Links: School of Music | College of Fine Arts
---