A Rich Experience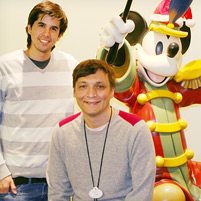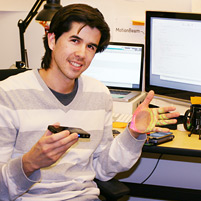 MotionBeam allows for character interaction with a handheld projector.
When it comes to pursuing cutting-edge research in technology, Karl Willis literally goes the distance.

A New Zealand native who studied computational design in Japan, Willis is now pursuing his Ph.D. at Carnegie Mellon University. He is currently a student in the Master of Tangible Interaction Design program, within CFAs' School of Architecture.

The SideBySide project he worked on as a research lab associate at Disney Research in Pittsburgh won 'Best Paper' and 'Best Demo' at the UIST 2011 conference, one of the most prestigious conferences in the field and in the industry.

SideBySide pushes gaming to the wall with its novel interactive system that allows multiple people to play and work together using handheld projectors — anytime, anyplace. 
It's part of the MotionBeam project, which PC World calls "the most unique gaming system we've ever seen."

"We really rely on CMU to bring talented and smart students to work with us and help us push our research forward," said Ivan Poupyrev, senior research scientist at Disney Research.

The company was so impressed with the breadth of work Willis did in Japan that they decided to support his Ph.D. research here at CMU.

"The work he's doing is excellent. And within CMU itself, he is making an impact on other students. Professors are impressed with his work," Poupyrev said.

Willis became fascinated with using computers as a form of creative expression at an early age, first making posters to put on his wall and then moving on to graphic design.

"Since then, I've really seen the cool things you can do with technology. I'm personally interested in the games. With our handheld projector technology, a game can be played between multiple people in a public place simply by projecting next to them," he said.

Willis says he is motivated by seeing the fun experiences kids have while taking the games out for a little test drive.

"I think it's pretty exciting to go from a raw idea and develop that into something that is a working prototype with wires sticking out that turns into something people can really use," he said.

"It's good for us to see how they use it and even when we see where our system is failing, it's still exciting. They see past a lot of the little problems we notice because we are the makers of the device. And the expressions on their faces when they see what they can really do with the technology? That's really cool."

The way Willis sees it: "If children can have a really positive experience with technology when they're very young, it can get them thinking. If we can deliver that positive experience, we can get more and more people motivated to create technology." 

Poupyrev offers some insight as to what it takes to be successful at the company.

"There's a balance. Students should not only be academically strong, but they should also do the work that can potentially create new products and services for the company," Poupyrev said.

"It's very hard. It requires very careful choices of direction and producing very high quality results. Which project is the one that's going to get invested in? It's highly competitive, within academia and in the company."

He added, "It's great for students because they learn how the real world works. But at the same time they build a strong academic portfolio."
Related Links: Karl's website | IvanPoupyrev.com | Interactive Mobile Projectors | Disney Research in Pittsburgh
---