Student Perspective on Film Festival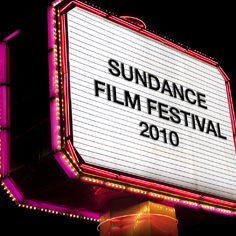 The Sundance Film Festival in Park City, Utah, is more than just a chance to preview movies and mingle with the stars. For second-year students in Carnegie Mellon's Master of Entertainment Industry Management (MEIM) Program, it's an educational and professional networking opportunity.

"It was exhilarating because of the great films and intimate interaction with everyone involved in movie production — from major stars to aspiring filmmakers," said Angela Colee (HNZ'10). "A significant complement of the event was a set of special classes about the business side of the festival, offered by industry professionals who also are our instructors back in Los Angeles."

Colee describes MEIM as a business degree for creative people, or an education for Hollywood's future execs. It's a two-year program that combines business and management on the Pittsburgh campus with full-time internships in Los Angeles.
Scott Shooman, vice president of production & acquisitions at Sony Pictures, led the first class, whose focus was on how the studios and filmmakers court each other during the festival.

"He shared stories about negotiating with producers until four in the morning to assure that he had the deal before the film screened the next day," Colee said.

Bob Moczydlowsky, vice president of product development of Topspin Media and also a speaker on "The Digital Development Process" panel at Sundance, led a session focused on the ever-changing environment of the Internet and social media landscape.

"The movies themselves were the real stars of the festival," Colee said. "Hundreds of people showed up for each screening, even if it meant crowded shuttle buses and long lines in the cold weather outside the screening sites."

Colee and her classmates used their time at the festival to introduce themselves to people and ask as many questions as they could. She said getting up early in the morning and trying to get tickets at the box office was well worth the extra effort.

She describes The Sundance Film Festival as more of a gathering of a community than an entertainment event.

"Everyone wants to talk about the movies and events, and stars walk the streets next to everyday people," she explained. "Sundance also is a great learning experience. I am in awe of many of the filmmakers with whom I had the opportunity to speak."

In the end, she said, it was about being around people who love creating and watching good movies, and who want those movies to succeed.

"It's a perfect fit for future entertainment industry executives; it grounds us and reminds us why we all want to do what we want to do," she said. "In the end, everyone just wants a good story.
Related Links: MEIM  |  Heinz College
---