P.J. Dick Pledges $750,000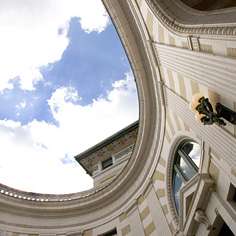 Carnegie Mellon University's School of Architecture and P.J. Dick Inc. have created the P.J. Dick Inc. Architecture, Engineering and Construction Management (AECM) Fellowship.
P.J. Dick has pledged $750,000 to provide fellowships for master's degree or doctoral candidates in the AECM program, a joint program between the School of Architecture and the Department of Civil and Environmental Engineering. 
      
"Our companies have long been good friends and partners with Carnegie Mellon and we greatly value the relationship," said Clifford Rowe, P.J. Dick's chief executive officer. "We are pleased to be able to give something back to the university."
Rowe said one of the company's challenges is being able to recruit, develop and retain talented young people.
"Carnegie Mellon has been a source for some of our brightest team members," he said. "We are confident that the P.J. Dick Fellowship will continue their long tradition of excellence."
      
P.J. Dick chose to establish the fellowship in appreciation of the strong working association between the company and Carnegie Mellon, as well as to assist students pursuing careers that will positively affect the built environment.
      
Carnegie Mellon and P.J. Dick have a long-standing history of collaboration. P.J. Dick employees have assisted School of Architecture students in multiple Solar Decathlons and provided workshops on building information modeling.
They have also served as construction managers for the recently constructed Gates and Hillman centers on Carnegie Mellon's campus, as well as the university's Collaborative Innovation Center.
Related Links: School of Architecture  |  P.J. Dick  |  Dept of Civil & Environmental Engineering
---