Impromptu Performances Entice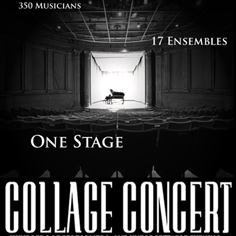 Performers from Carnegie Mellon University's
School of Music
are stirring up a few otherwise ordinary days by giving surprise musical performances across the Pittsburgh campus for passersby.
They're hoping to draw attention — and attendance — to the school's second annual Collage Concert, a dramatic event combining theatrical lighting, music and performance spanning six genres. The event takes place at 8 p.m., Feb. 12 in Soldiers and Sailors Memorial Hall.
Oboe player Maria Raffaele (A'12), who helped organize the unusual concert 'preview,' sees a lot of value in the impromptu performances.
"They are extremely flexible, so as a musician you can use the opportunity in any way you want — whether as a chance to perform that concerto you're working on, or an excuse to get together with a few friends and play some chamber music," she said.
What she also loves about performing like this is the immediate impact it has on others.
"You are bringing people something unexpected, something to brighten their day, something strange and unusual to think about, and it's a great feeling to know that you've impacted someone else in a positive way doing something you love," Raffaele said.
Flute player Weronika Balewski (A '12) enjoys inviting people to see and hear more of what the musicians at the school are doing.  
"We spend hours every day practicing and rehearsing because we love performing these amazing works of art," Balewski said. "We want people to feel welcome to come to our concerts and recitals."
The 90-minute nonstop Collage Concert showcases all of the school's ensembles, including baroque, classical, contemporary, vocal, jazz and musical theater show tunes.
Featuring world-class stage direction by Drama Professor Gregory Lehane, musicians will appear and disappear from various positions around the hall, moving seamlessly through the balcony, stage and aisles. Carnegie Mellon President Jared Cohon will be among the performers in a percussion ensemble piece by Steve Reich that requires no instruments, just clapping.
"Climb Ev'ry Mountain" from The Sound of Music, will feature vocalists converging on stage in a visually spectacular finale. Noel Zahler, head of the School of Music, is excited to present the event to the city.
"Collage is an opportunity for everyone to see and hear what this School of Music does; we make music and we make music brilliantly," Zahler said. "It is a demonstration of why our students are sought after by every major orchestra and opera house in the world."
Selected School of Music faculty members will serve as soloists, including Cyrus Forough, professor of violin; Enrique Graf, artist lecturer in piano; Laura Knoop Very, assistant professor of voice; and Michael Rusinek, artist lecturer in clarinet.
Tickets are available online at
http://music.cmu.edu
and are $15 for adults, $12 for seniors and $10 for students. For more information, call the School of Music concert line at 412-268-2383.
Related Links: School of Music
---