Student Lands Dream Job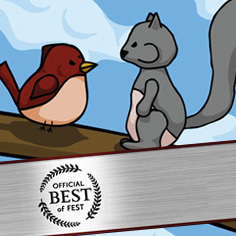 Rebecca Scully had a dilemma. Should she follow the footsteps of her mom and her grandfather — the illustrators in her family — or the technical bent of her father? The solution? Come to Carnegie Mellon and hone both skills.  

With an eye toward a computer graphics career in the movie industry, Scully (CMU'10) became one of Carnegie Mellon's first interdisciplinary Bachelor of Computer Science and Art (BCSA) majors. And she's already landed her post-graduation job — at DreamWorks.

"I love the fact that there's so much freedom in choosing what I want to do with the BCSA program," she explained. "One of the reasons I came here is because of the diversity and everything that's offered here. I don't feel I could have had that at any other school."

It was clearly a good fit. Scully recently won an Official Best of Fest indie film award for her Flash animation 'The Bird and the Squirrel,' chosen from among thousands of entries, as well as a place at the upcoming International Family Film Festival in Los Angeles.

With musical collaboration from classmate Adam Lederer, she created the short as a final project for adjunct art professor Jacob Ciocci's Advanced Animation class.
"I have seen Becky grow a tremendous amount," said Ciocci. "Not only is she flawless when it comes to understanding technique but her work ethic allows her to pursue her ideas to complete fruition. In addition, her computer science background gives her a strong understanding of what computers are capable of."
"For me," he continued, "working with students is about recognizing what their needs are, where they are artistically, and trying to push them to the next logical place."
The talented computer animator will be starting with DreamWorks as a technical director after graduation this year — a 'dream job' she believes Carnegie Mellon helped her land.
"Carnegie Mellon has helped me out in tremendous, tremendous ways," Scully stressed. "The things I've learned here have been totally invaluable."
She added, "I want my films to reach large audiences. Everybody — not just kids, not just adults, not just teens — everybody, and I want them to feel the same thing and to move them. That's really my goal. It's not to make money. It's not for fame. It's to create something that will better the world."
Related Links: Scully's Website  |  International Family Film Festival  |  School of Computer Science  |  College of Fine Arts  |  creativity  |  Smart Football
---