World of Goo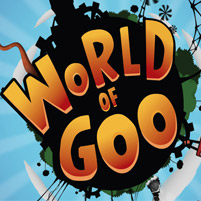 Given these trying economic times, quitting your job probably sounds like a bad idea. For one alum, it was the best decision he ever made.
Kyle Gabler (CMU'05) and a friend instead spent their days in the coffee shops of San Francisco for two years, using as much free Wi-Fi as they could get. The result: the award-winning video game 'World of Goo,' where users build a landscape of towers, bridges, giant tongues and floating machines out of balls of goo.
"Almost two years later, it's a surreal feeling being able to look back and realize that quitting our jobs was the best decision we ever made," said Gabler. "The game has managed to pick up lots of cool awards — even a few 'game of the year' awards — and continues to sell very well."
Developed for Nintendo Wii, PC, Mac and Linux, the highly addictive 'World of Goo' was based on a student project at Carnegie Mellon University's Entertainment Technology Center (ETC).
"Our team's goal was to build 50 new experimental games in one semester. One of the 50 games was an unstable little thing I made called 'Tower of Goo,'" Gabler explained. "I had no idea, back in school, that the little buggy project I stayed up all night finishing, would change my life."
What does Gabler like most about the ETC?
"A lot of kids these days are too talented. They can make art, and write music, and design and build complicated systems, all at once, resulting in beautiful, functional creations, with a whole lot of harmony," he explained. "It would be wasteful to make them pick just one discipline to focus on. The ETC helps kids realize they really can do everything, if they want."
Like most of the center's grads, inspiring words spoken by the late alum and ETC co-founder Professor Randy Pausch still echo in Gabler's head.
"Randy always had a brilliantly worded, usually wry token of advice. One of the most valuable things I learned at the ETC was Randy's 'If you make something cool enough, nobody cares if you didn't follow the rules,'" Gabler said.
Gabler admits he is not trying to change the world through his work.
"I'd just be happy to maybe help folks not take stuff so seriously."
Related Links: ETC | Randy Pausch: The Last Lecture
---