Primetime TV: Fall Line-Up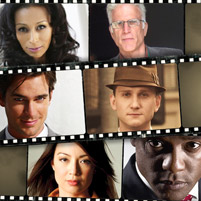 Grab a snack and settle in as your favorite stars from Carnegie Mellon University's School of Drama light up primetime TV.
New this fall on NBC is The Event, a conspiracy thriller starring Blair Underwood (A'88). Aaron Staton (A'04) is back on screen in AMC's award-winning drama Mad Men. Tamara Tunie (A'81) returns to NBC's hit series Law and Order: SVU, as does Cote DePablo (A'00) to NCIS on CBS.
More fall highlights include:

Ted Danson (A'72), Bored to Death, HBO
Ming-Na (A'86), Stargate Universe, Syfy
Abby Brammell (A'01), Lie to Me, Fox
Anthony Carrigan (A'06), Law and Order: Criminal Intent, NBC
Josh Gad (A'03), The Daily Show, Comedy Central
Katy Mixon (A'03), Mike and Molly, Two and a Half Men, CBS
Rhys Coiro (A'02), Entourage, HBO; Dark Blue, TNT; Burn Notice, USA
David Hornsby (A'98), It's Always Sunny in Philadelphia, FX
Joe Mangianello (A'04), True Blood, HBO
Also keep an eye on the credits. You'll notice CMU has plenty of stars behind the scenes as well, including:
Rustin Davis (A'06), key set production assistant, Cougar Town, ABC
Brett Benner (A'90), casting director, Cougar Town, ABC; One Tree Hill, The CW
Kourtney Kang (A'00), supervising producer, How I Met Your Mother, CBS
Kristen Hwang (A'08), production associate, CBS News New York
Becky Frey (A'05), costume production assistant, Late Night with Jimmy Fallon, NBC
Clark Perry (A'02), writer, V, ABC
Sallie Patrick (A'02), writer, Life Unexpected, The CW
Kyle Billingsley (A'04), foley mixer, Flash Forward, Castle, Brothers & Sisters, all on ABC
John Shaffner (A'76), production designer, Mike and Molly, Big Bang Theory, Two and a Half Men, CBS; The Conan O'Brien Show, TBS
Michael Mayer (A'75), production designer, Bones, Fox
Jessica Kender (CMU'97), production designer, Dexter, Showtime
Alex Fuller (A'92), art director, The Defenders, CBS
Joe Stewart (A'77), production designer, The Conan O'Brien Show, TBS
Edward L. Rubin (A'82) art director, Love Bites, NBC
Mark Worthington (A'91) production designer, Love Bites, NBC
Candance Brekka (A'10) art department production assistant, Love Bites, NBC
Before you know it, January will arrive to find Matt Bomer (A'00) starring in a new season of White Collar on USA.  Ian Harding (A'09) and Chuck Hittinger (A'05) also return to the screen in January with Pretty Little Liars on ABC Family. Meanwhile, be on the lookout for Pablo Schreiber (A'00) who will be co-starring in Lights Out, a new drama about an aging heavyweight boxer on FX.
Check your local listings for dates and times.
Carnegie Mellon's School of Drama is one of the world's preeminent theater arts conservatory programs. Graduates have made indelible contributions to the national and international arts communities as practicing artists, crafts persons, educators, theorists, entrepreneurs, administrators and arts innovators.
Related Links: School of Drama | College of Fine Arts
---