Program Impacts Teen's Future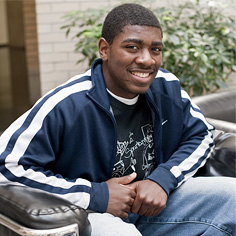 For one Pittsburgh-area teen, the seemingly unlikely combination of hip-hop and Carnegie Mellon has been life-changing.
Kai Roberts was lucky enough to participate in the Arts Greenhouse (AG), a hip-hop educational outreach program of Carnegie Mellon's Center for the Arts in Society. Thanks to this experience, Roberts is thrilled to begin his freshman year at Carnegie Mellon this fall as a full-tuition grant, engineering student.
"When the admissions office said I was accepted and the financial aid came, I thought I was dreaming," said Roberts. "The scholarship was well appreciated and I feel very thankful. I actually wrote my application essay on how I was involved in AG and how it made me really want to go here."
The AG provides Pittsburgh-area high-schoolers with the opportunity to attend weekly music technology classes on campus and record at the School of Music. University undergrads participate as coordinators, evaluators and volunteers, and additional workshops are held in various locations.
"The main goal of the AG is to open up positive possibilities for Pittsburgh teenagers," explained Amos Levy (A'07), program coordinator and local DJ. "It could amount to a career in music, or simply a hobby that helps a teen get through a tough time. We hope to help teens broaden their horizons, connect with educators, musicians and mentors, familiarize them with college, and also connect Carnegie Mellon to the city."
"I just signed my name and was off to the races," said Roberts, who learned about the AG during a school presentation and was immediately hooked. "I've been doing this for almost four years. When I started, I didn't know anything about the software we use or how to produce. I now have a new appreciation for hip-hop as a culture. I found out that music is something that I love."
He added, "I can't express how grateful I am to be in this program, because I wouldn't know myself if I weren't. I wouldn't do half the things I do without this program."
It was his familiarity with the Carnegie Mellon campus and its energetic community that prompted Roberts to apply.
"I felt a connection," Roberts said. "I really needed to see Carnegie Mellon for what it is, which is an institution bent on excellence, hard work and creativity."
Levy noted, "Kai's story embodies every goal of the Arts Greenhouse. We are working so that more participants will be able to reap as many benefits as Kai. We want to create a profound positive experience that can impact teens that may be much harder to reach."
Related Links: College of Engineering  |  College of Fine Arts  |  Center for the Arts in Society  |  Arts Greenhouse
---