Young Alum's Dream Fulfilled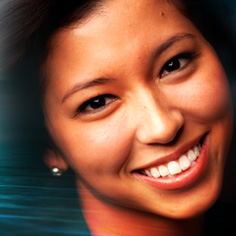 Alana Clapp (A'10) never imagined her scuba certification would help her land her "dream job." Clapp learned in March that she'd been hired as an assistant stage manager on the indescribable, aquatic Cirque du Soleil show "O" — and she was starting before graduation.

"Carnegie Mellon prepares you in how to present yourself and your work, how to speak in an interview — to stand out so that you're more marketable and appealing to the employer," said Clapp, whose experience helped her land her initial Cirque du Soleil role as an intern in the Las Vegas production last summer.

A production technology and management (PTM) major, Clapp also noted that all four classmates received plum job offers well before graduation.

Since high school, when she ushered the Cirque productions that toured through her Florida hometown, Clapp had set her sights on joining the company. Now she works on a team of five stage managers, responsible for keeping the intricate and potentially risky show running smoothly each night — which includes working with a stage pool filled with 1.5 million gallons of water.

The electrifying performances are backed up by detailed planning and safety procedures, and emergency drills are run regularly. With divers working under the show nightly, almost all technicians are indeed scuba-certified.
"It's a dream come true for me that I'm able to do this, and I wasn't even out of school before I was given the opportunity," she said. "I'm living the most amazing dream ever."
Clapp chose Carnegie Mellon largely because of the unique blend of production and stage management training. She was delighted to discover a lasting support system.
"The people that you're surrounded by — people that are attracted to this field of work that have come to this school to learn — form a really supportive environment that helps you become more interested and dedicated. That played a huge part, equal to the strong education," said Clapp, who was also an
Andrew Carnegie Society Scholar
at Carnegie Mellon.
She also appreciated the ability to take advantage of varied courses, especially dance, which had originally sparked her lifelong love of the arts.
Her advice to incoming students?
"Make sure that you do what makes you happy because if you're not doing something that you really enjoy, you're never going to be fulfilled," she said. "As long as you're happy, your dedication and drive will come from that."
Related Links: Watch "O" Trailer  |  Tickets and Info  |  Cirque du Soleil: The Beat of a Different Drummer  |  Watch PTM Video  |  College of Fine Arts  |  Fuel the Fire
---