Eyes on the Prize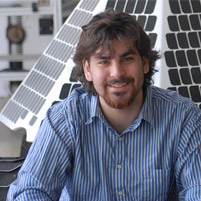 As NASA looks to bring down the cost of space exploration, it's turning to private companies such as Astrobotic Technology — led by Carnegie Mellon researchers — to buy the data on their lunar landing project.  Astrobotic's first mission is to win a $20 million Google Lunar X prize by visiting the Apollo 11 landing site and transmitting high-definition video to Earth.
A related MSNBC article recently featured an animated video created by Carnegie Mellon student Aaron Davidson (HS'13), explaining the aspirations of the university's Google Lunar X Prize team to land a robot on the moon.
The project fulfilled an assignment in the Advanced Mobile Robotics course taught by William L. "Red" Whittaker, Carnegie Mellon's Fredkin Research Professor of Robotics and chairman and chief technical officer of Astrobotic.
"I had never done 3D animation before, and it was challenging," said Davidson, who is pursuing a double major in creative writing and computer science. Davidson found some assistance from experienced animator Matt Kaemmerer (CS'11) , whom he met in one of the Gates-Hillman computer clusters.
"The great thing about Carnegie Mellon is that there is a phenomenal amount of talent in all the disciplines on campus, and if you just ask around, you can find people who are interested in helping you out on your project," he said.
Physics and music composition major Albert Brown (CMU'13) volunteered to compose the music for the video and David Gianforte (E'13), an ECE major, programmed a render farm for it. The voice acting was performed by Alex Spieth (A'13), an acting major.
The video is now available for use as a marketing tool by the Google Lunar X Prize team to inform the general public about the moon effort and potentially attract sponsors.
An added bonus: the project landed Davidson a job working for Whittaker at Astrobotic over the summer.
"Red Whittaker is very good at getting things done," Davidson said. "And his class forces students to generate and present results regularly under minimal supervision.'"
Astrobotic Technology is the forerunner in the race to be the first privately owned company to land and operate a robot on the moon, a crucial step towards the company's longer-term vision of supporting the science objectives of NASA and other space agencies.
Related Links: Google Lunar X | Paving the Way | 30 Years Ago
---