Alum's Edible Masterpieces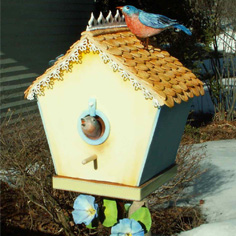 A student of everything from ceramics to glass blowing, Mary Jo Dowling (A'83) says it was the perfect education for her dream career: becoming a sugar artist.
Her creations are indeed their own works of art. From tiers of brimming blue Tiffany boxes to vivid morning glories twining below a charmingly tiled birdhouse, these are less cakes than they are completely edible sculptures.
Dowling was recently given the chance to show off her skills on TLC's competitive Ultimate Cake-Off show. She served as the four-person team's primary designer and detail expert. The 42-minutes-on-television was a day-long competition preceded by weeks of travel and preparation. In the end, they used 27 sheet cakes, 80 pounds of buttercream and 130 pounds of fondant.
While at Carnegie Mellon, Dowling majored in illustration, but took advantage of a wide variety of course offerings. Her early career was as an art director. It was enrolling in a local cake decorating class after moving to the New England area that took her down another path.
"It's a perfect blend of everything that I've taken — the painting, the sculpting, the design," she explained. "I've always had a more whimsical bent to my illustrations so this was actually a perfect fit. People expect that of a cake. Fondant is basically sugar play-doh."
Dowling's company, Elegant Edibles, promises unique confections for all occasions, from birthdays to weddings.
"Customers come to me because they've had an idea. They go to a regular bakery, and the staff says, 'Right,'" she said. "Customers come to me and know I'll really listen to them, work with them, and push toward what they want."
The only problem? Convincing her customers to cut these works of art and dive in.
After winning numerous awards for her competition work, Dowling recently earned the highest honor of her profession, the title of Certified Master Sugar Artist. A title held by only 13 of the more than 4,000 members of ICES, the International Cake Exploration Societé.
"I took advantage of as many of the courses and disciplines as I could while I was at Carnegie Mellon," she said, in credit to her education. "That's how I developed a well-rounded set of skills that helped me later on."
Dowling and her husband, Kevin, a current member of Carnegie Mellon's alumni association board and former VP Innovation of Color Kinetics, clearly enjoyed their school experience enough to pass it along. Their daughter just completed her freshman year at Carnegie Mellon as a performance voice major.
Related Links: Elegant Edibles  |  College of Fine Arts
---