How a Cartoonist's Brain Works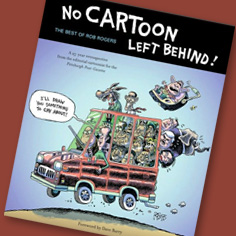 Rob Rogers, an internationally award-winning editorial cartoonist, recently gave an 'illustrated' talk at Carnegie Mellon University, offering insight into his creative process.
The 1984 College of Fine Arts alum began by answering the question he's most often asked — where does he get his ideas?
"There isn't a vending machine around the corner selling ideas, there's no idea store, and elves do not come visit me in the middle of the night," Rogers joked, as he dispelled all the myths. "The process of coming up with an idea is more like when a hunter goes out into the woods and sort of waits for his prey to come walking by so he can shoot it."
Rogers went on to explain how he 'sets the trap' for an idea by reading the newspapers and watching cable news. "That's kind of the cheese, and then I just wait for the idea to pop in and I trap it." (Watch video of the lecture here.)
As an editorial cartoonist for the Pittsburgh Post-Gazette, Rogers' work covers national and international issues. Syndicated by United Feature Syndicate, his cartoons regularly appear in The New York Times, The Washington Post, USA Today and Newsweek. Rogers' cartoon "The Gingrich Who Stole Christmas" was the cover for Newsweek's 1994 year-end issue.
Rogers peppered his Carnegie Mellon audience with equal parts "funny" and "thought-provoking" as he punctuated his talk with his cartoons up on the big screen behind him. His fearless commitment to the topic du jour has found him in as much hot water with readers as it has garnered him accolades.
After covering topics ranging from 9/11, gun control, and the environment to the evolution of former President Bush's ears, Rogers closed his talk with Pittsburgh-related cartoon highlights — poking fun at the city's sports teams, Primanti Brothers sandwiches and local government.
"Obviously, sometimes these do upset people, but sometimes they're just for fun and I really enjoy doing them because they get a lot of reaction locally," he said.
Rogers' new book "No Cartoon Left Behind: The Best of Rob Rogers" was recently published by Carnegie Mellon University Press.  The book is a look back on 25 years of his cartooning. Carnegie Mellon University's Center for the Arts in Society (CAS) hosted the lecture.
Related Links: Watch the Lecture on YouTube  |  Read More About the Book  |  RobRogers.com  |  Read More on CAS
---