An Exploration of Theater-Making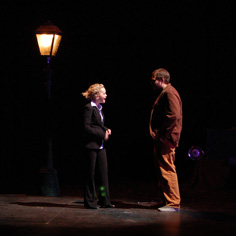 For one week every year, classes and production work in Carnegie Mellon's School of Drama stop while student directors, designers, actors, technicians and playwrights collaborate on more than 40 productions of their own. It's called "PLAYGROUND: A Festival of Independent Student Work."
The festival, now in its seventh year, is a week's worth of rehearsals and preparations culminating in performances and events staged in and around Carnegie Mellon's Purnell Center for Performing Arts from Thursday, March 25 through Saturday, March 27.

Free and open to the public, the events include dramatic and musical performances, installations, mural projects and light shows, which provide an outlet for the creative expression of independent student work. Visit the website for a complete performance schedule.
"At any time during the week of 'PLAYGROUND' one can find the School of Drama buzzing with activity as students plan and prepare their projects and performances, utilizing their skills in creating theatre of their choosing," said Catherine Moore, an associate teaching professor who assists with the production of the festival. "Students work both within their chosen disciplines and venture out into areas that they may not normally have the opportunity to explore."
Moore said the empowerment and sense of community that "PLAYGROUND" week creates is exhilarating for everyone who participates or attends.

Projects developed by students for "PLAYGROUND" have gone on to be produced in other venues across the country including New York, Los Angeles and at various theatre festivals.

Tickets to performances and events are available through the School of Drama Box Office by calling 412-268-2407.
Related Links: PLAYGROUND  |  School of Drama
---