At Carnegie Hall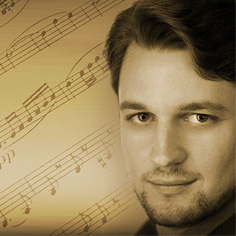 Maestro Ronald Zollman led the Carnegie Mellon Philharmonic April 8 at New York City's Carnegie Hall. The event, which served as the capstone of a
College of Fine Arts
weekend in New York City, featured rising Metropolitan Opera star and School of Music alumnus Liam Bonner in Mahler's "Lieder eines Farhrende Gesellen."    
Bonner and the Carnegie Mellon Philharmonic performed a preview of the concert for audiences in Pittsburgh April 6 at Oakland's Carnegie Music Hall.
"It's quite an honor and a privilege to be able to sing at Carnegie Hall," said Bonner. "It has such a history to it, so to be able to perform where some of the best have trod is very exciting and humbling. It also makes it extra special to be performing with my alma mater."
Bonner says his proudest moment was when he made his Metropolitan Opera debut as Morales in Carmen this past February.
"I think it's almost every singer's dream to sing on that stage and I'm fortunate enough to have now had that opportunity," he said.
His toughest challenge? The solo aspect of his profession.
"Between traveling and having an unusual rehearsal schedule, I've found it very difficult to be away from home — away from family, friends and loved ones for too long," he said.
Bonner credits Carnegie Mellon University for his success. There's not a doubt in his mind, he says.
"I wouldn't be where I am today had it not been for the professional training, experience and exposure that I received from studying at Carnegie Mellon," he said. "It's such a special music school in the sense that it's as close to a conservatory as you can get with it still being in a college setting. I think that helped to keep me well rounded, yet focused on a level that allowed me to succeed in this profession."
To students, Bonner's best advice for success is: be yourself.
"This career has no definite, guaranteed results and each individual is on their own path. Things happen at different rates for different people," he said. "There are so many factors involved in this business — talent, preparation, skill, luck, who you know, timing."
Bonner says the best piece of advice that he was given came from one of his instructors at Carnegie Mellon University.
"Mildred Miller Posvar told me, 'The day you stop singing for yourself is the day you become successful.' We are the medium between composer/librettist and audience. Of course we have to love what we do, but if we're only doing it because we get enjoyment out of it, what's the point?"
Related Links: Read the Press Release  |  School of Music  |  College of Fine Arts
---