Alum on Set Designs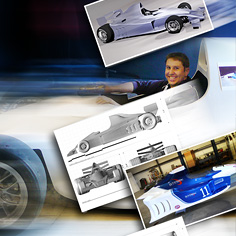 When the hotly anticipated "Iron Man 2" starring Robert Downey Jr. hit theaters this May, Andrew Birdzell (CFA'06) wasn't just any moviegoer. He was watching his own work on the big screen.
The talented set designer spent five months working 12-hour days on the big budget Marvel Entertainment film — a rare experience to be part of designing elaborate, one-of-a-kind sets.
Birdzell's projects included work on six 70's-era Grand Prix racecars, hero Tony Stark's 'Hall of Armor,' a space plane and an Expo set so large it was partially built at L.A.'s massive Sepulveda Dam.  Visit the
film site
to see Birdzell's work — the Expo and Grand Prix scenes are featured in the film trailer.
With the public eager for information, security was serious business. Birdzell enjoyed the unfamiliar plot along with the rest of us, since he and his colleagues saw only the tiniest bits of script absolutely necessary for their creations. Each night, desks were fully cleared, leaving no trace of potentially telltale images.
Birdzell, who received his master's degree in fine arts, believes his Carnegie Mellon training helped in his rapid move from school to major movie.
"Carnegie Mellon was pivotal in the process," he said "There's a famous quote — 'Luck is what happens when preparation meets opportunity.' Carnegie Mellon was the preparation."
As an early student of math and science, Birdzell was surprised to discover a passion for design during a work/study program in theater construction. He chose Carnegie Mellon for its personal focus, a process that began with his first interview.
"My interview was all about what they saw in me regarding my potential as an artist, and what they felt I could become in three years at Carnegie Mellon," Birdzell explained, adding, "Carnegie Mellon has outstanding professors. The tools that they provided me to approach design also form a way in which to approach life. Carnegie Mellon taught me to ask the right questions."
Birdzell's other recent projects include numerous commercials and two upcoming films: "Knight and Day," starring Tom Cruise and Cameron Diaz, and "Larry Crowne," with Tom Hanks and Julia Roberts.
Other notable Carnegie Mellon graduates connected to the "Iron Man 2" release include Kenneth West (TPR'80), executive vice president and CFO of Marvel Entertainment, William Law (CFA'66), a fellow set-designer, and Tricia Yoo (CFA'01), a set-costumer.
Related Links: A Business Marvel  |  About the Movie  |  Andrew's Filmography  |  College of Fine Arts  |  Watch: Design, School of Drama

---