Prof. Abigail Rosen Holmes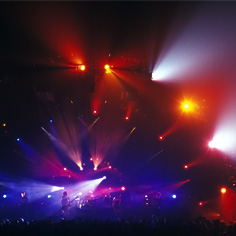 "We do not truly see light, we only see slower things lit by it." Abigail Rosen Holmes often cites this C.S. Lewis quote to sum up the quality of light — a subject she's mastered.
The associate professor of lighting design joined the Carnegie Mellon faculty last year with a wealth of industry experience.
Her design projects have ranged from concert tours, television, film, corporate events, architectural applications and more. Lighting projects have ranged from country star Martina McBride's recent tour to Dallas Symphony Orchestra performances to Walt Disney Imagineering.
"I'm interested in exploring the use of an abstract medium to create mood and deliver a message," Holmes said of her craft. "I want to explore new and different ways of thinking and I find that varied types of projects really push me to find creative solutions and methods."
Recently recognized as one of the 50 most powerful people in entertainment technology by Live Design magazine, Holmes maintains a partnership at NyxDesign LLC. She believes her professional work contributes to the depth of her teaching.
"The design fields I work in use technology as a means to express creativity — and that technology is developing very rapidly," she explained. "To be an effective teacher, it's important that I stay current with both the creative and technical developments in the professional world."
Holmes is no stranger to Carnegie Mellon, having attended and enjoyed the pre-college program in theater during her high school years, as well as having worked with several alumni as professional partners. It was the university's particular strengths in both the arts and sciences — integral elements of her work — that drew her back.
She teaches Theatrical Lighting Design, Concert Lighting Design, and Lighting Design Skills, as well as Intro to Media Design for the Stage, which provides an overview of the technical skills necessary for the creation of media components in live performance.
"I hope to help my students find the conceptual tools to use in their design work, and to open doors for them to think in new ways," she said of her educational goals. "I try not to provide solutions, but give guidance so students can find it for themselves."
She finds the Carnegie Mellon environment particularly intriguing, adding, "There is a fabulous opportunity here to be exposed to the amazing work of the other faculty members. The possibilities for interesting kinds of collaboration across the schools and disciplines of the university are unique and really exciting."
Lighting design by Prof. Holmes for The Cure (Photo by Steve Jennings)
Related Links: NyxDesign.com  |  Holmes Bio
---