Alum's Sculpture Turns Heads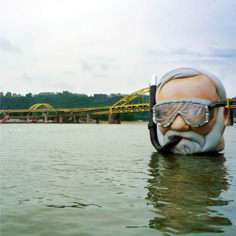 Andrew Carnegie recently surfaced near his old North Side home in Pittsburgh — in a way.
A 20-foot bust of the steel magnate and university's founder, complete with snorkel and diving mask, turned heads as it floated on the Allegheny River during the city's annual Three Rivers Arts Festival.
"I want my work to force viewers to stop and adjust their eyes," said Carnegie Mellon alum and designer Stephen Antonson (A'89). "I want them to have to make a shift from the familiar and everyday-ness of their view to something that is peculiar, yet oddly familiar."
Antonson first proposed the idea while still an undergrad at Carnegie Mellon. The idea remained in his sketchbook until 20 years later when he mentioned it to Alice Snyder, vice-chair of the festival, at a dinner party. He admits the project was more challenging to make than he had anticipated.
"Several people were involved in three different cities. We started with photos that I brought to the fabricator," Antonson said. While taking those photos, of the Carnegie bust at the university's Hunt Library, Antonson moved it and set off an alarm. "It was a bit of added excitement," he joked.
He worked with a fabricator to create a likeness based on several images, which was then made out of vinyl coated fabric, hand-sewn, inflated and then painted. Placing the inflatable sculpture in one of Pittsburgh's rivers presented more challenges — namely the wind and current. Why the river?
"The river works as a kind of blank canvas or stage," Antonson explained. "Pittsburgh and its cityscape have changed a great deal over the years, but the rivers have changed very little. This makes time travel easier."
Antonson recalls first becoming interested in art at the age of four, while making peanut butter cookies. "I think it had something to do with using a fork to make the cross hatch pattern on top," he explained. Design has been a passion ever since.
He's been Style Editor for Martha Stewart Living magazine; bought, restored and sold vintage furniture; and essentially creates anything his clients ask for — from tables to chandeliers to picture frames.
Serious as he is about his art, he never seems to lose his sense of humor. Take, for example, his objet d'art called Pie'd Pan; in a twist on the better known bust of the Greek god, Antonson sculpted Pan with a pie in the face.
"I've always loved the classical portrait bust of the mischievous Pan. It only seemed right to throw some mischief right back at him," Antonson said.
His best guess on what Carnegie might think of his likeness floating on the Allegheny? "Andrew Carnegie was well known for his wit and humor, so I think he would approve," said Antonson.
"After moving from Pittsburgh to New York, Carnegie continued to visit on a regular basis. I thought he should return once more and admire the city he had such an impact on economically and culturally," he added. "It's a great town."
Related Links: Read Article: The Wall Street Journal  |  Read Article: CrunchGear.com  |  StephenAntonson.com  |  School of Art
---