The Beat of a Different Drummer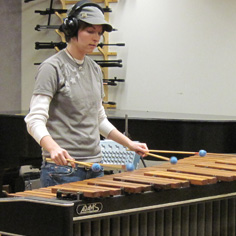 As percussion majors at Carnegie Mellon University, Lauren Kosty and her classmates are constantly pushing the envelope of creativity — stockpiling their music arsenals by learning and improvising with jazz, classical, rock, Latin and world music.
So it shouldn't come as a surprise that as graduation grew near, they decided to audition for Cirque du Soleil.
"It was a blast because it was something completely different than any other audition," said Kosty. "We were able to play music from all over the world and think creatively about our interpretations.  A company like Cirque is unique because they bring together so many artists from different countries with different skills. The process was a huge learning experience and we all found it very inspirational."
Kosty is pursuing her master's degree at CMU — the only place she considered because of the level of the percussion studio in its School of Music.
"The CMU percussion studio is known as one of the best in the country. There is something about the way we are taught here that really pushes people to achieve their best," she said. "It's great being in such a hard working environment but still have people you can count on for a good chat or a little encouragement."
Erin Dowrey was also attracted to CMU because of the caliber and reputation of the percussion studio. Winner of the undergraduate division School of Music Concerto Competition, Dowrey and the others are known around the School of Music for their support of each other. They practice, eat and sometimes even sleep in the studio.
"We also have an air of friendly competition, which keeps us all working as hard as we do," he said.
It's just like a family, according to Colin Pinto-Martin, who feels he would have more of an impact on audiences at Cirque than he would in a traditional, classical setting.
Pinto-Martin could speak volumes about his instructor, Paul Evans.
"He is the most amazing teacher I have ever studied with," he said. "The best part of his playing is his humility. He is not the guy with his name on sticks, but you can't watch a PBS special without seeing him in it. His versatility is amazing."
Regardless of whether he gets the job with Cirque, Pinto-Martin definitely feels hopeful about his future.
"I know that it all depends on how much I work, and what my attitude is," he said.
About the videos: Usually musicians must travel to auditions wherever they might be, but for Cirque, the percussionists are sent an 'audition track' plus a score with a basic outline of what is wanted. Much of the 'fill' is up to the individual musician. Then, audio and video of the audition is posted on YouTube, along with contact information, for Cirque and anyone else to view. The audio for these Cirque videos was engineered by Carnegie Mellon students in Professor Riccardo Schulz's multi-track recording class.
Related Links: Watch Video: Lauren Kosty  |  Watch Video: Colin Pinto-Martin  |  Watch Video: Erin Dowrey  |  School of Music
---