Broadway Show Features Young Alum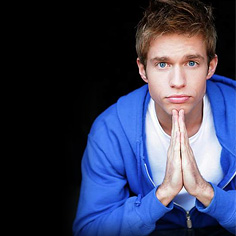 The ink was barely dry on Hunter Ryan Herdlicka's diploma from Carnegie Mellon University when he auditioned for Stephen Sondheim. Less than two weeks after graduation, the School of Drama alum landed the role of Henrik Egerman in Sondheim and Hugh Wheeler's "A Little Night Music."
Directed by Trevor Nunn, Herdlicka has been performing to sold-out crowds alongside Angela Lansbury and Catherine Zeta-Jones — eight times a week since November 2009. Lansbury and Jones are scheduled to appear through June 20, however production of the Tony Award-nominated musical has been extended through Aug. 29. (Buy tickets.)
"I knew Carnegie Mellon was the first school to grant a degree in drama ever, and that spoke a lot to me," Herdlicka said, on why he chose the university. "I also did research on their alumni, and not only were they working but they were recognizable in the business."
The fact that Herdlicka's versatility is being noticed by critics doesn't surprise him.
"I think what stands out is that on my resume you can see I've performed in lighthearted, carefree musicals like 'The Full Monty' and 'The Wedding Singer,' but then you also see I've spent four months with the Utah Shakespearean Festival," he explained. "My training at Carnegie Mellon exposed me to so much; it's where I discovered my passion and love for Shakespeare."
Herdlicka saw his first Broadway show at age 8, when his grandparents took him to see "Cats," also directed by Nunn. Most recently, he accompanied Lansbury to see Sondheim's "Anyone Can Whistle." It was the first stage musical she performed in, and she originated the lead role. Herdlicka described sitting next to her, meeting her family and listening to her laugh as "glorious."
"I was talking to her one time in her dressing room, and I said, 'You're so open and willing to talk about everything, I'm learning so much.' She said it was her duty to pass this knowledge along to me. She said, 'When I'm gone, there needs to be people who understand why we do this.'"
But he urges students not to be in too much of a hurry. "Stay in school for the four years. Take full advantage of the program, every ounce of it, even when you don't feel like it," he said. "It's a career incubator. Grow. Perfect your acting technique. Learn to dance. Broadway is always going to be here."
Herdlicka appreciated the small, individualized drama program at his alma mater, where he says he and his classmates received plenty of one-on-one attention.
"The classes are taught by faculty who are devoted 100 percent to teaching," he said. "They have worked in the business, but they are not distracted by working in the business while they teach."
What's next for Herdlicka? He's following another dream — to perform at a special cabaret space in New York City, called Feinstein's at Loews Regency.
"I'll be there June 27 at 8 p.m., singing Sondheim music, songs that are important to me and are relevant to my life at this time," he said. "To perform there at age 23 is a huge blessing."
Visit the Feinstein's at Loews Regency website to purchase tickets to Herdlicka's cabaret show. All Carnegie Mellon alumni receive a discount.
Related Links: HunterRyanHerdlicka.com  |  School of Drama  |  Buy Tickets to A Little Night Music  |  Feinstein's at Loews Regency
---