'The Nightmare Story'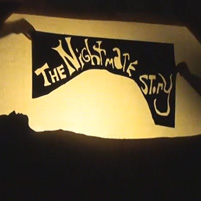 The irony of PigPen Theatre's "The Nightmare Story" is that the seven students from Carnegie Mellon University performing the play are living a little bit of their dream. Beating out several thousand other shows, the play won the coveted honor of Best Overall Production at this year's New York City Fringe Festival.

The plot: four mysterious brothers arrive to tell the story of a woman who is tormented by nightmares. A boy, her only son, is the key to her salvation.

"The Nightmare Story" is the fifth of PigPen's original plays, which can be described as atmospheric fables that dazzle the audience with a unique blend of puppetry, shadow play, group movement, live music and clever lighting effects.

According to Gwyn McAllister of the Martha's Vineyard Times, the show is "brilliantly choreographed theater with a flow that could only be wrought by a group accustomed to working closely together."

Arya Shahi, Ben Ferguson, Dan Weschler, Ryan Melia, Curtis Gillen, Alex Falberg and Matt Nuernberger created the ensemble for a performance in the School of Drama's "Playground: A Festival of Independent Student Work" in 2008. In addition to NYC's Fringe, they have performed regionally at playhouses in Chicago, Pittsburgh and Martha's Vineyard.

"I think the biggest thing CMU has given us is each other, not just the guys in the group but each student in the school," said Ferguson. "We are surrounded by some of the most talented young theater artists in the country and it really is inspiring."
 
Running a close second is the tremendous support the students have received from so many of the faculty at CMU.

"Especially Barbara McKenzie Wood, head of the School of Drama's acting and music theater option, who took a particular interest in us and was gracious enough to write letters of recommendation for us," Ferguson said. "Her words meant more to us than she can ever know."

Melia said Playground was a crucial experience for the ensemble, leading to their success at Fringe.

"It was that week of creating the show, of absolute immersion in our own work, that changed the way we viewed ourselves as collaborators and artists," Melia said. "The pressure of putting a show together in one week, having only one hour to tech it, and to know that you only have one performance to get it right, or fail trying, makes you ready for anything."

The group plans to continue working together after graduation in some capacity and challenging themselves with each new opportunity.

"That is our goal. But I think our biggest goal is to never take ourselves too seriously," Melia said.


Related Links: PigPen Theatre | School of Drama
---