Crystal Clear Reflections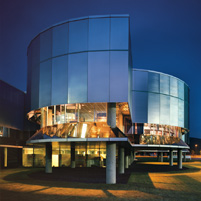 Carnegie Mellon University made a lasting impression on Rob Cassetti (A'79), renowned glass designer and an alum of the College of Fine Arts (CFA).
He recalls the sense of freedom as well as community that the school instilled in him and his future wife. Along with other students, they honed their individual talents but also worked together to produce events for the CFA community.
As a current senior director of the non-profit Corning Museum of Glass, it's a lesson he and his wife, Q (A'79), are still drawing from with "2300°", a unique monthly event combining glass-blowing performance, music, food and merriment.
"It very much goes back to when you're in school, it's 3 a.m., people are in the studio, they're playing music, and there's a huge amount of energy," said Cassetti. "We thought, 'What if you could bottle that and create an event around it?'"
In the New York town of Corning, population 14,000, the free event regularly draws more than 3,000 guests. And on Nov.18, 2300° held a special 10th anniversary celebration and get-together for CMU alums.
After graduation, Cassetti worked as an industrial designer for a housewares company in New York City before he was recruited by the luxury crystal-maker, Steuben Glass, a subsidiary of Corning. Seven years later, the design department was relocated to parent company headquarters in Corning, N.Y., coincidentally not far from the Cassetti's childhood hometown.
When asked to help out with Corning's exhibition development at the museum, he gladly obliged.
"I actually expected to go back to Steuben," he said, "and then I fell in love with what the museum is all about. When the opportunity came to join the museum staff, I took it."
Cassetti often reflects on other memorable lessons gathered from his Carnegie Mellon days.
"At the time, the design department was on the third floor of Baker Hall," he explained.  "Every morning, you'd walk up that spiral stair going to class and see the stained glass in the ceiling with Andrew Carnegie's motto, 'My heart is in the work.' That idea of really pursuing your passion — it's about as good as any class you can take."
And it's that lesson and others that inspired Cassetti to host this month's 2300° for his fellow alums. With the tremendous number of CMU grads in the area, he hopes it's the first of many opportunities to reconnect an invaluable community.
Related Links: Watch "Behind the Glass" | School of Design
---