Paula Wagner: Hollywood Powerhouse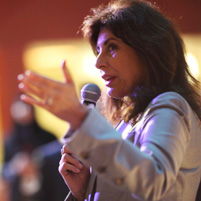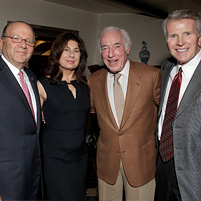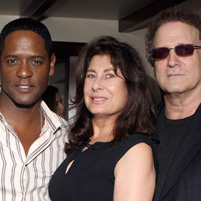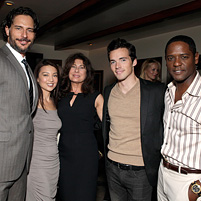 Students at Carnegie Mellon University in Qatar recently got a taste of Hollywood.
Renowned film producer and former top talent agent Paula Wagner was in Doha with her husband, co-chairman of Morgan Creek Productions Rick Nicita.
The pair served on jury panels at the Doha Tribecca Film Festival.
A graduate of CMU's School of Drama and member of the university's Board of Trustees, Wagner is among the elite of the entertainment industry — and one of Carnegie Mellon's most ardent supporters.
Wagner spoke to a cross section of students about the rare opportunity they have to earn a Carnegie Mellon degree at the beautiful, state-of-the-art campus in Doha.
"Education is very dear to my heart because education is one of the most critical components of what will bring our world together," Wagner said. "It's the thing that opens our hearts and minds to transcend the cultural divide."
Wagner is the founder of Chestnut Ridge Productions, a film production company that is developing and consulting on motion picture, theater, television and new media projects. She began her career at Creative Artists Agency (CAA), where she spent 15 years representing some of Hollywood's greatest actors, directors and writers.
She has produced such critically acclaimed films as "Narc," "The Others," "Vanilla Sky," and "The Last Samurai," as well as the international blockbusters "Mission: Impossible II," "Mission: Impossible III," and Steven Spielberg's "War of the Worlds," for which she was the executive producer.
Wagner has received numerous awards and recognitions for her contributions to entertainment and individual film societies.
Earlier this fall, Wagner and Nicita hosted a dinner to honor the chairman of CMU's board of trustees, Ray Lane, for his leadership and service to the university.
Guests included many prominent alumni of the university, with trustees and accomplished alumni of the School of Drama in attendance, as well as entertainment industry leaders.
Wagner noted that in his professional life as a managing partner at Kleiner Perkins, Lane has funded many projects that coincide with cutting-edge initiatives at Carnegie Mellon.
President Jared Cohon acknowledged Wagner's and Lane's exemplary leadership.
He called the evening a testament to Wagner's and Lane's efforts to bring northern and southern California together, combining the strength of the university's Silicon Valley alumni community with the outstanding success of our Los Angeles alumni in the entertainment industry.
It's a theme Wagner echoed in Qatar.
"Technology is now driving the arts forward. Movies are in 3-D and there is now digital distribution of films," Wagner said. "Carnegie Mellon has always been on the cutting edge of invention. In a world full of convergence, there is no better place in the world to learn that than Carnegie Mellon."
Top photo: Paula Wagner
2nd photo from top (left to right): Dr. Cohon; Paula Wagner; Bud Yorkin E'48, H'06; Ray Lane
3rd photo from top (left to right): Blair Underwood A'88; Paula; Albert Brooks A'69
Bottom photo (left to right): Joe Manganiello A'04; Ming-Na A'86; Paula; Ian Harding A'09; Blair Underwood A'88


Related Links: Hollywood Comes Home | School of Drama
---