Designing a Career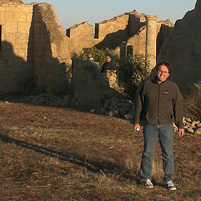 As a child, Bryan Lane (A'92) would recreate the sets of his favorite TV shows — in model form. Today, he's a set designer on Criminal Minds, the CBS hit show about a top-notch team of FBI profilers.
In his 20-year career, he's also worked on Fox's Bones, The Unit and The Bernie Mac Show, to name a few.
"It's very exciting. Each show brings different challenges and opportunities," said Lane, who transforms amorphous set ideas into tangible drawings.
Lane calls it a fast-paced profession, as he handles up to eight sets on different locations for each weekly show. Beyond the model-building, he credits Carnegie Mellon University for providing him with real-world skills critical to his success.
At 15, Lane visited a cousin who was attending CMU. He immediately set his sights on the School of Drama to help him achieve his television dreams.
"It was a very hands-on experience," he explained. "At CMU, you really learned how to design, and design under pressure and within parameters. Every show I work on has different parameters, including money and time. You have to figure out how to work within them."
He added, "I once worked on an awards show that was done at the Beverly Hilton Hotel. We had to drag the scenery through the lobby. Everything had to be designed to fit through a three-foot by seven-foot door."
Remembering his own early days, Lane takes time to help out young CMU students and alums.
"I always welcome students to come in," he said. "It's such a big transition from school to work. And there's so much to learn — what you're going to make, how it's going to be put together, what fake items are going to be made to look real."
He noted, "You know it's all smoke and mirrors, what we do. To learn how to work with all these materials and everything else is very important."
Lane also supports his alma mater by giving back.

"When I came to Carnegie Mellon, they said to me, 'We will help make it financially possible for you to go here.' That made a big impact, because my parents in no way could afford to send me," he said.
"That's why I support the school. You need an education."

Pictured: Set built for "The Unit." Bryan Lane (A'92), designer; Bruce Miller, production designer.

Related Links: School of Drama | Criminal Minds
---