A Reality Show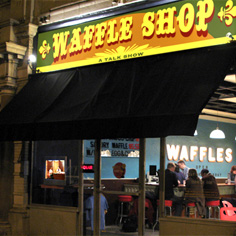 A common college experience: late night waffles and coffee. An uncommon college experience: creating a Waffle Shop and turning it into a reality talk show with the community.
That's just what Carnegie Mellon's Jon Rubin, assistant professor of art, and his 14 students have done with "Waffle Shop: A Reality Talk Show." It's a unique project in Pittsburgh's East Liberty section that's part of Rubin's Storefront Project course.
Visitors to the shop are served up delectable $4 waffles and the opportunity to talk over hot topics on camera. The edited episodes are featured on the project's website waffleshop.org and run 24/7 on a TV displayed in one of the large front windows.
In Rubin's three years leading the class, storefronts have ranged from a pirate radio show and cardboard taco truck in Garfield to a Museum of Modern Failure in the South Side. This year's location was a smart pick — the shop has been bringing in a diverse crowd of about 30 people each weekend night.
Rubin's students come from disciplines as varied as architecture and business and learn about art in varied ways. This semester Rubin is co-teaching with Brett Yasko, adjunct faculty in design, which has attracted a large number of design students to the class.
"Part of my job is expanding the definition of art for both the students and the public," explained Rubin. "The students are responsible for creating a cultural experience that adds something unique to the city. Within that, there are many learning objectives, like working collaboratively with community members and learning about the social role of art in society."
Rubin explained. "Our talk show deals with performance and popular culture. Building an interior deals with sculpture and commerce. We're designing promotional materials, painting signs, editing video, as well as running a small business — we deal with a lot of skill sets. Just in making the talk show, you're pulling upon performance, writing, acting, and constructing social situations, which is an art process in itself. It's very interdisciplinary."
Carnegie Mellon is one of the few art schools offering Rubin's Contextual Practice concentration, which focuses on art "that has a conscious and often catalytic relationship to the place in which it exists and the audience with whom it engages."
The students study the neighborhood before brainstorming, so their project ideas can respond to the specific context.
Abbey McClain, a senior history major, elaborated, "I enrolled because I am extremely interested in art having an impact on a community. What happened in the end was the creation of a project with the community. Without the customers, the passersby, fellow business owners and even the suggestion notes taped to the windows, the project would not have taken shape."
"If I had to break the whole class down to one principle," Rubin emphasized, "the students get to try out their ideas in the real world. The classroom is the real world. Our critics are our customers."
Related Links: Waffle Shop Website  |  Jon Rubin's Bio  |  School of Art
---