A Hilarious Romp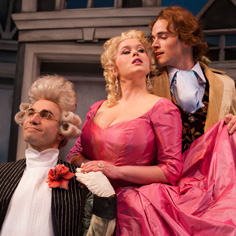 Hollywood considers him a go-to guy when it comes to voice coaching. His students describe him as caring, precise and extremely clever. And while his accomplished career spans the stage, television and movies — for Carnegie Mellon Professor Don Wadsworth, it's just all in a day's work.
With acting roles ranging from Shakespeare's plays to the recent Smart People with Dennis Quaid, Wadsworth isn't one to shy away from a new challenge. His latest ambition finds him directing the School of Drama's production of "The London Cuckolds," Feb. 20-28.
"I don't normally direct," said Wadsworth, "but I was teaching at the Central School of Speech and Drama in 1998 when 'The London Cuckolds' debuted at the Royal National Theater and I thought, 'This would be perfect for us to do at Carnegie Mellon!'"
He explained, "I wanted to give our students something really great to work on. Actors can't just become good in the classroom. They have to see what audiences react to."
The plot centers on three dim-witted husbands who believe each has discovered the most effective method of securing his wife's fidelity. When three lusty bachelors tempt the wives, hilarity ensues as the wives turn the tables on their unsuspecting spouses.
An unusual twist: Wadsworth has cast School of Drama faculty members to play the hapless husbands. His vision also included an original score by Carnegie Mellon grad student Nathan Hall, whom Wadsworth challenged to use instruments from 1681, the year the play debuted.
"Don Wadsworth is an absolute delight to work with," said Ryah Nixon (A '09), who plays the role of wife Arabella. "He allows us to fully explore the range of our characters by creating a very open and entertaining rehearsal environment, where we are able to play while still accomplishing quite an unbelievable production."
Wadsworth acknowledges the difficulties involved in staging a comedy.
"The laughter is the most gratifying for us. That's how you know the scene worked," he said. "Comedy is fragile. It's a daunting and scary job because if it doesn't happen, it's a disaster. If you do it well it looks easy, which is frustrating. When it looks easy, natural, fluid and spontaneous — is when it's really not."
As part of a new, season-long initiative at the School of Drama, students in the undergraduate Dramaturgy Option will hold talkbacks with the audience, cast and crew following the Tuesday evening performance.
The dramaturgs are also available to discuss the play with classes, student groups and public organizations. Contact Michael Chemers, dramaturgy option coordinator, at chemers@andrew.cmu.edu or 412-268-2399, to schedule a session with a dramaturg.
Performances take place in the university's Philip Chosky Theater at 8 p.m., Tuesday through Friday, and 2 p.m. and 8 p.m. on Saturday. Tickets are $23-$27 and can be purchased online at www.drama.cmu.edu/ or by calling the box office at 412-268-2407. Discounts are available for students and seniors. For additional information about ticket purchases and the upcoming season, contact the School of Drama box office at 412-268-2407 from noon to 5 p.m., Monday-Friday.
Related Links: Watch: The London Cuckolds - Trailer  |  Buy Tickets
---