Posner Center Hosts Szyk's Art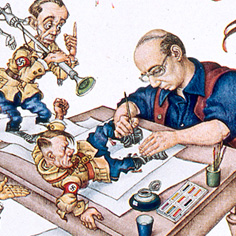 A Polish-born American artist, Arthur Szyk captivated audiences during World War II with his anti-Axis caricatures and cartoons. Appearing in Time, Esquire and Collier's magazines, among many others, these illustrations are on display at Carnegie Mellon University's Posner Center Jan. 7 through March 28, 2009.
This marks the only regional stop for "Justice Illuminated: The Art of Arthur Szyk" — an exhibit organized by The Arthur Szyk Society. The exhibit is free and open to the public.
"University Libraries are extremely pleased to be able to bring this historic, aesthetic and instructive exhibit to Pittsburgh and the region," said Gloriana St. Clair, dean of Carnegie Mellon's University Libraries. "We hope that people of all ages will be able to take advantage of this opportunity to see Szyk's work and to remember both his use of art to glorify religious and poetic works and to fight against the forces of oppression."
"Justice Illuminated," which can be viewed online, includes many of the pieces that made Szyk famous, including a copy of an illuminated manuscript of the Declaration of Independence and items from a series about George Washington and the American Revolution. Scenes of Jewish life and Jewish religion, painted in illumination, as well as many wartime magazine and newspaper illustrations are part of the exhibit.
In conjunction with the exhibit, Carnegie Mellon will display books illustrated by Szyk from its Posner Collection, including the "Rubaiyat of Omar Khayyam" and the Haggadah.
Szyk's subjects were as diverse as his uniquely combined styles of renaissance illumination and political caricature. The New York Times called his illustrated Haggadah of Pesach "worthy to be placed among the most beautiful books that the hand of man has ever produced." He also created advertising art for companies such as U.S. Steel and Coca Cola.
Sponsors of the exhibit include the Posner Fine Arts Foundation and the Carnegie Mellon University Libraries. The exhibit is open from 1 to 4 p.m., Monday through Friday. Other times are available by appointment.
The illustration was reproduced with the cooperation of The Arthur Szyk Society, Burlingame, CA
Related Links: Listen to Podcast [.mp3]  |  The Arthur Szyk Society
---