Sneakerology 101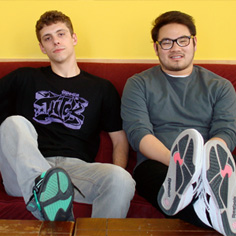 It's always best to start a friendship on the right foot. Carnegie Mellon seniors Jesse Chorng and Elliott Curtis take that literally.
The pair met at orientation four years ago and immediately noticed each other's vintage shoes — a sure sign they were both "sneakerheads." Last spring, the students turned their passion into an official Carnegie Mellon course — Sneakerology 101.
The course — now in its second year — explores sneaker culture from its 1970s roots in New York City streetball to shoe design, manufacturing, child labor issues and marketing. The course encourages students to purchase shoes that express creativity and individuality.
"It's not about getting the newest sneaker, the most sought-after sneaker," Curtis said. "It's about having a connection with your shoes."
Sneakerology 101 is part of Carnegie Mellon's Student College (StuCo), a program established in 2001 that gives students an opportunity to teach subjects not currently part of the university's offerings. A student committee and faculty advisory board review course proposals and interview potential student instructors. Both instructors and students enrolled in StuCo courses receive credit toward graduation requirements on a pass/fail basis.
In lieu of last year's final exam, Chorng and Curtis called on the entire class to organize Kicksburgh, a community celebration of sneaker culture. Five Pittsburgh-area collectors exhibited their top 10 pairs of sneakers, local boutiques sold vintage shoes and a DJ played hip-hop music as breakdancers and graffiti artists showcased their talents.
Attendees were asked to donate a pair of used sneakers. The class sent donations to Soles4Souls, a nonprofit organization that provides shoes to victims of natural disasters in third-world countries.
Another final exam, in the form of Kicksburgh 2009, will be Wednesday, April 15, 2009, in Skibo Gymnasium.
Hypebeast, a blog focusing on urban culture, first posted a story about the class. It was subsequently picked up by hundreds of bloggers. In addition, popular sneaker enthusiast magazines like SLAM and BOUNCE reported on Chorng and Curtis's creation. Most recently, The New York Times featured Sneakerology 101 in its quarterly Education Life section.
The popularity of Sneakerology 101 also led to unique internship opportunities for the two students. Chorng, an economics major, completed a business development internship for VICE magazine and its online video channel, VBS.TV. He plans to put his creativity and communication skills to work following graduation as he pursues a master's degree in tangible media and interactive design.
Curtis, a social and decision sciences major and guard for the men's basketball team, served as Reebok's Heritage Archive intern last summer. He organized vintage clothing and footwear displays from 1986-1994 and interacted with the company's product design, development and marketing teams. The Reebok internship and his work with a Boston-area children's shoe company solidified his career aspirations.
"I'd love to get into product and brand management, hopefully fashion or footwear related," he said. Wherever their career paths take them, this duo has left a footprint on Carnegie Mellon.
Abby Houck
Related Links: Watch Video  |  Hypebeast Blog  |  StuCo
---