A Regular Superhero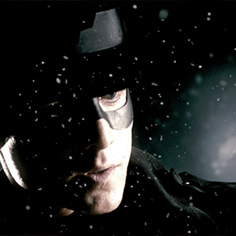 Gabriel Macht (A '94) may have nailed the superhero title role in the recently-released movie "The Spirit," but the Carnegie Mellon alum is just as down-to-earth as ever.
"I had a blast," he said of playing the crime-fighter. "It was the most fun I have ever had working on a film."
As a small child, Macht was already certain he'd be an actor. His early memories include singing with his mom and seeing his dad on TV and the big screen. By his teens, he was off to Carnegie Mellon's summer pre-college drama program.
"I wanted to see what the program was, if this was really what I wanted to be doing," explained Macht. He returned to Carnegie Mellon the following year, enrolled in the university's renowned School of Drama.
"You work hard and the discipline is crazy and absolutely meaningful," he said, acknowledging the rigor of the program and its importance to his career. "It leads the way for your adult years and that was probably the most important thing that I came away with from Carnegie Mellon."
After school, he spent six years in New York polishing his skills in the theater before heading back to LA — and to the movies. There, he's enjoyed tackling divergent roles, evident by his lengthy and varied résumé.
Past film roles range from a subtly emotional turn as John Travolta's protégé in "A Love Song for Bobby Long" to the charming musician in "Because I Said So." Movies soon to be released include the comedy "Middle Men" and the thriller "White Out" with Kate Beckinsale.
Through it all, Macht has somehow managed to stay well balanced, to which he credits his acting background.
"Honestly, I feel like that helped me," he explained. "It gave me a leg up, being in the business and seeing how it goes down. I saw my Dad get work throughout his career and I saw him not get work, which is every actor's life. But when you know that going in, you don't take it so hard."
Macht would love to return to Pittsburgh to spend some time with the drama students. Until then, he has this to offer: "Don't take this business too hard. Shoot for the stars, but be realistic."
Related Links: School of Drama  |  Pre-College Drama Program  |  Macht's Bio  |  The Spirit Website
---