Stephen Schultz: A Class Act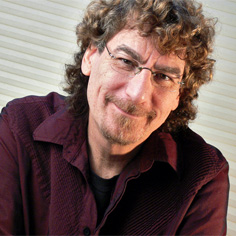 For Carnegie Mellon's Stephen Schultz, time is always top of mind — both in terms of its influence on music and its infinitely short supply in his schedule.
An associate teaching professor in music history and flute, Schultz is one of the most active recording artists among the School of Music's faculty members. His recent recording of Joseph Bodin de Boismortier's "Six Concertos for Five Flutes" has him performing all of the five pieces and layering them together — something no other flutist has done.
But his passion goes beyond the studio. He's an inspiration in the classroom too, where students learn everything from Baroque to the Beatles. The latter is the subject of one of his most popular courses.
"Professor Schultz is very energetic and is very passionate about what he's teaching, whether it's the fundamentals of rock 'n roll or the intricacies of period pieces," said violinist Rachel Mathey, a first-year grad student.
"He passes along his enthusiasm and really wants students to understand the context of the music in each era," explained Mathey, who is also part of the Carnegie Mellon Baroque Ensemble directed by Schultz.
A group comprised of music performance majors who give historically-informed performances on modern instruments, the Baroque Ensemble offers students a chance to learn about the time period that influenced such legendary composers as Bach, Handel and Vivaldi.
"He has not only broadened my knowledge of the Baroque repertoire, but has also helped sculpt me into a soloist and ensemble leader with well-roundedness of the period techniques," said Mathey. "Because of him, I better understand what influences music of all genres. And that will greatly impact me in my career."
A graduate of the Royal Conservatory of Music in Holland, Schultz also holds degrees from the California Institute of the Arts and the California State University of San Francisco. As a solo, chamber and orchestral player, Schultz appears on more than 50 recordings for such labels as Dorian, Naxos, Harmonia Mundi USA, New Albion, Amon Ra and Koch International Classics.
Related Links: School of Music  |  Watch Five Flutes Video on YouTube  |  Watch Pittsburgh Post-Gazette Video
---