Celebrity Alumni Share w/ Students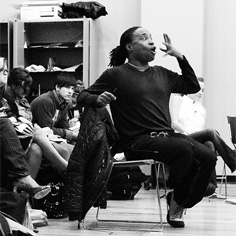 Students in the School of Drama recently enjoyed a workshop with some of Carnegie Mellon University's celebrity alumni.
The VIP guest list included actors Patrick Wilson (A'95), Dagmara Dominczyk (A'98), Billy Porter (A'91), Tamara Tunie (A'81) and Manu Narayan (A'96).
Acclaimed writer, director and producer Dan Green (A'94) also attended, as well as Mike Reiss — a founding writer of The Simpsons.
Wilson, Dominczyk, Porter, Tunie and Narayan participated in a lively Q&A session with students in the Chosky Theater. All of them shared industry know-how and life experiences as professionals and artists. Senior music theatre student, Ryah Nixon, was thrilled with the opportunity.
"It was priceless firsthand information from extremely successful graduates," she said. "They really accentuated the point that everyone's path is different. When it comes to being a working actor, you pave your own path."
Senior and junior actors also participated in singing and television workshops throughout the day, led by Porter, Wilson and Dominczyk. Dramatic writing grad students met with Reiss, who spoke about his career as a comedy writer and about what it takes to break into the business of comedy writing today.
"Mike gave us a practical series of steps to break into television. His advice was insightful, and perhaps more importantly, applicable," said Marque Franklin-Williams, a second-year dramatic writing grad student.
Reiss also discussed the differences between television and film writing. Green, whose television credits include "ER" and "The West Wing" among others, spoke at length about what to expect after graduating, and about what it takes to forge a career in Los Angeles.
"Dan's insights on pitching and the importance of marketing an idea were invaluable," said Michael Finkle (A'09), a senior in the director's program. "He provided advice on how to verbalize an idea and inspire people to support it."
Photo by Louis Stein
Story Submitted by Crosby Selander (A'09)
Related Links: School of Drama  |  School of Music  |  College of Fine Arts
---