New Role for Ming-Na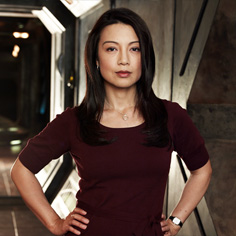 They are light-years away from Earth and running for their lives on an ancient spaceship called Destiny.
Among them? Carnegie Mellon University's accomplished alum Ming-Na, who plays Camile Wray in the new series Stargate Universe, premiering this fall on the Syfy Channel.
"Stargate Universe is about a group of people who worked on a secret off-world base in the Milky Way Galaxy called Icarus Base until they were attacked," explained Ming-Na. "Camile's goal is to get everyone safely back to Earth and their loved ones."
She adds that Camile is ambitious and intelligent but feels vulnerable and often alone against the military. "Lots of character driven story-line and filled with action," she said, "and of course aliens."
A few previous roles still hold a special place in her heart, such as her portrayal of June in the movie Joy Luck Club; starring in the award-winning NBC drama ER as Dr. "Deb" Chen; and voicing Disney's Mulan. But she quips her favorite role is always the one she's currently working on — the one that's paying her bills.
One thing she found most valuable in preparing her to work as a professional actress was her Carnegie Mellon education, and she tells students they'll be surprised to find how helpful it will be to them once they go off to look for work.
"Those four years prepared me to take on the real world with confidence," she said. "I was taught all aspects of theater by an amazing group of professionals who were tough but supportive, diverse and risk-taking, dynamic and inspiring."
She explains, "It went beyond just learning how to act and dance and figuring out a character's motivation in a scene. Carnegie Mellon helped me to discover who I was and what my strengths were as a person as well as an actress."
For those seeking a healthy career in the business, she offers some wise words of advice: "Respect the ensemble and all those who are involved in putting together a project. Always do your best and be responsible. This means show up on time, know your lines and do your job."
She also notes, "Your reputation is very important and will last longer than your last great performance. If you get the reputation for being difficult to work with, you'll find yourself with a very short career."

Ultimately, she feels you have to always follow your heart and trust your instincts about where to take your career.
"Be smart and learn about the business," she said. "It is show business after all!"
Related Links: Watch the Trailer  |  Q&A with Ming-Na  |  Ming-Na on IMDB  |  School of Drama
---