From Gaming to Training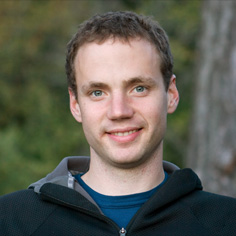 Adrien Treuille's work is so much fun he can barely call it work. An assistant professor of computer science and robotics at Carnegie Mellon, much of his research focuses on how the realistic simulations created by supercomputers can be made to run in real-time on everyday PCs.
"I want to put physical simulation in the palm of your hand — curling smoke, splashing water, spinning cosmos," Treuille said. "All of these are now possible, but most people can't manipulate these simulations because they don't have access to supercomputers. A combination of breakthroughs in computer speed and some new computer algorithms is allowing us to make this accessible to virtually anyone."
The result of such an advance could be as simple as video games that don't have just a handful of non-player characters, but entire cities full of characters that respond to game play.
The techniques being pioneered by Treuille also could help engineers design better controls for cars and airplanes and could create more realistic simulations for training firefighters and other emergency responders.
In education, students could use the techniques to learn physics by creating worlds in which the laws of physics are modified.
"For instance, if you replace the famous 'force equals mass times acceleration' equation with 'force equals mass times velocity,' you find yourself in a strange molasses-like world where a rolling ball comes to rest as soon as it's no longer pushed," he said.
Work by Treuille provided the basis for Draft Track, the Emmy-nominated special effect used in ESPN telecasts to "see the air" behind NASCAR race cars. He contributed to the innovative online game Foldit, which harnesses the brainpower of tens of thousands of game players to help biochemists unlock the mystery of how proteins fold. And he's developing a new massive multiplayer competitive game to simulate RNA evolution and gain insight into the beginnings of life.
"Adrien's techniques are mathematically elegant and achieve astounding performance and realism in simulations of highly complex physical systems," said Peter Lee, head of the Computer Science Department. "But more than that, Adrien's wide-ranging interests in the arts, online games, biochemistry, and even motorcycling infuse his research with an unusual amount of creative energy."
Treuille, who specializes in real-time computer simulation techniques, has been recognized by Technology Review magazine as one of the world's top 35 innovators under the age of 35.
He was selected for the magazine's prestigious TR35 list from more than 300 nominees by a panel of expert judges and the magazine's editorial staff. He and the other TR35 winners for 2009 will be featured in the Sept./Oct. issue of Technology Review and honored at the EmTech@MIT 2009 Conference, Sept. 22-24 in Cambridge, Mass.
"The TR35 honors young innovators for accomplishments that are poised to have a dramatic impact on the world as we know it," said Jason Pontin, editor in chief and publisher of the magazine. "We celebrate their success and look forward to their continued advancement of technology in their respective fields."
Related Links: Watch Video  |  Technology Review Honors Treuille  |  Foldit  |  More About Adrien  |  Robotics Institute  |  School of Computer Science
---