Inspiring Young Artists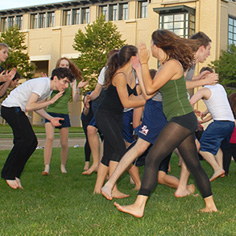 This year's Drama Pre-College Program at Carnegie Mellon University is one of the largest ever with almost 150 students enrolled.
"It speaks to the strength and reputation of our Drama Pre-College Program, that despite the hard economic times, we have incredibly talented high school students from all of over the country, continuing to enroll," said Maria Stoy, who co-directs the program.
The program is closely modeled after the School of Drama's renowned conservatory training program. Students choose to study in one of three options focused on acting, music theatre or design production.
For six rigorous weeks — June 27 through August 7 — the students are immersed in classes taught by top-notch professors from the university's School of Drama as well as local, professional artists.
"I love it here," said Stephen Marks, a 17-year-old from Connecticut studying music theater. "It's so much fun — I'm exhausted, though, but in a good way!"
After winning at the National High School Musical Theater Awards held in New York City in June, Marks' mother encouraged him to enroll to see if he was really interested in studying musical theatre full-time.
"She wanted me to be sure that I was ready for a conservatory type of program, and she'd heard that Carnegie Mellon's Drama Pre-College program was really good," he said.
Marks was also unsure if he wanted to pursue a career in musical theatre, or perhaps follow another of his interests such as computer science. But the award gave him a new confidence and sense of direction, which he says has continued to grow and develop during his time in the program.
"I've become more sure of my passion for the theater, and that this is what I want to do in my life," Marks said.
Many of the pre-college students return to Carnegie Mellon for their undergraduate training, including Gabriel Macht (A'94), whose films include The Good Shepherd and White Out, and James Carpinello (A'97), currently starring in the Tony Award-nominated Broadway show Rock of Ages.
Camille Patton, who is a major Los Angeles Casting Director, offered the students a free casting seminar in the university's Rauh Studio Theater. Patton has earned five Emmy nominations for casting.
Carnegie Mellon has seven distinct Pre-College programs — architecture, art, design, drama, music, Advanced Placement/Early Action, and the National High School Game Academy — through which students can prepare themselves for study at the college level. Learn more here.
Photographed: Pre-college students from Summer 2009
Related Links: Pre-College Drama  |  Pre-College Programs  |  VIP Guests  |  School of Drama
---