Training Next-Generation Composers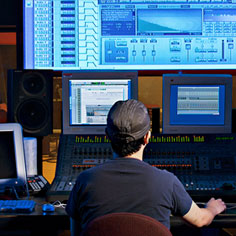 Carnegie Mellon professors of music, engineering and computer science are coming together to offer two new degrees in music and technology.
The goal is to train the next generation of composers, engineers and programmers in music signal processing, sound production, composition and the cognition of music.
"This convergence of disciplines creates exciting opportunities for forward-thinking artists, scientists and engineers who are interested in combining their talents," said Noel Zahler, head of Carnegie Mellon's School of Music.
"The program combines the innovation of the Carnegie Mellon experience with the world-class music making of this school to produce new and compelling musical experiences."
Based in the School of Music, the Bachelor of Science in Music and Technology and the Master of Science in Music and Technology programs bring together faculty from the Carnegie Institute of Technology, the School of Computer Science and the School of Music to explore new ways of performing, creating, presenting and archiving music.
Carnegie Mellon ushered in the first undergraduate and graduate classes this fall.
As this field of study crosses several curricula, a team of advisors will assist students in planning courses to help them reach their professional goals. Students will develop an understanding of music, computer science and electrical engineering (ECE), with an emphasis on one of these concentrations.
Courses such as sound production, music signal processing and recording will be interspersed with core music courses, including music history and harmony. Both degree programs will culminate in a research-based capstone project.
Alex Geis (E'04, A'10) likes the flexibility of the program.
"The structure of the program in having the ability to discuss path options and interests with advisors from all three departments is key," said Geis. "It's a relief to know that if my interests shift during the learning process to, say, computer science, I have the ability to change my third and fourth semester classes to concentrate in computer science rather than trying to effectively major in three different areas."
Zahler worked with Roger Dannenberg, associate professor of computer science; Richard Stern, professor of electrical engineering; Riccardo Schulz, associate teaching professor/recording engineer; and Thomas Sullivan, associate teaching professor in electrical and computer engineering, to develop both the bachelor's and master's degree programs.
Related Links: School of Music  |  College of Engineering  |  School of Computer Science
---