SensorFly for Hazardous Situations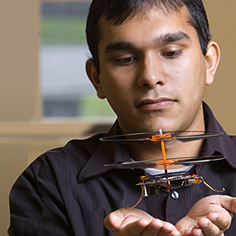 Disaster recovery could become less risky thanks to Carnegie Mellon University's Pei Zhang and his students. They have created "SensorFly," a mobile-controlled flying sensor network that monitors changes in a dangerous environment — such as an earthquake or fire.
Constant monitoring of such situations is crucial to keeping rescuers safe and victims alive until they can be reached. According to Zhang, traditional sensor networks fall short. But SensorFly — with its miniature helicopter-based mobile sensors — is far less expensive to place and deploy than traditional static networks and is, by its nature, resilient in a dynamic environment.
"In the face of hazards like smoke, heat and open electrical lines, the survival rate of individuals drops steeply as the time that they remain trapped increases," said Zhang. "In many cases, survivors are not conscious, or are immobilized, and therefore unable to attract the attention of rescue workers outside the building. SensorFly can enter the building in this scenario and search for survivors without risking lives or wasting the time of the rescuers."
Zhang, who is an assistant research professor in the university's Information Networking Institute (INI) and Electrical and Computer Engineering Department (ECE), says the SensorFly system has many potential applications where autonomous and rapid operations are needed.
For example, the system could be used in urban combat situations where both civilians and combatants hide in buildings. It could also assist in security alarm applications, such as home intruder scenarios, and elder care, such as in-home emergency verification.
"It appears to be the next step in sensor networks," said student Aveek Purohit (E'08,'13), who enjoys Carnegie Mellon's research culture of building things that, while extending theoretical foundations, are practical and solve real-life problems.
"My work will, I hope, contribute to the overall vision of having autonomous mobile sensors that help save peoples' lives in emergencies," Purohit said.
Zhang, who conducts his work at the Silicon Valley campus, says he came to Carnegie Mellon University because of students like Purohit.
"Carnegie Mellon attracts some of the best students in the world. They are a joy to teach and work with, but most importantly they have an innovative nature that is critical for being great future researchers," Zhang said.
Related Links: CyLab  |  INI  |  Electrical & Computer Engineering  |  Silicon Valley Campus
---