Starbucks Logo Designed by Alum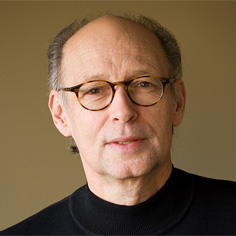 It's early Monday morning and Terry Heckler (A'64) runs into an old friend on the elevator. Not the guy standing next to him with a Starbucks cup, but the Starbucks logo itself — a logo he created.
"It's a warm, comfortable feeling of familiarity when I see a brand signature I've designed," said Heckler. "It's like seeing someone or something you know very well."
A graduate of Carnegie Mellon University's College of Fine Arts, Heckler created the logo along with other famous brand marks, including Panera Bread, Jansport and New Balance.
"The one logotype where I experience this most often and most dramatically is Jansport," he said. "I can be in some of the most foreign or remote places in the world and at eye level — directly in front of me on a backpack — I can smile at a very familiar friend."
Heckler regards his educational experience at Carnegie Mellon as life-formative, mainly due to the multi-disciplinary environment. And he says a football scholarship made it all possible for him, in conjunction with being able to participate in a painting and design summer course offered to high school juniors.
"It gave me the chance to experience gifted students my age and, more importantly, to obtain an unexpected department endorsement from Professor Beaman, a strong advocate of scholarship gifts supporting future students," he said. "It was these things that made the difference."
What keeps him inspired to do this kind of work? He explains that powerful graphic icons have always played important roles in focusing and inspiring human emotions.
"They are a key element to consider in any brand development effort," he said. His company, Heckler Associates, has worked on many start-up businesses where a strong brand mark signal has greatly aided brand equity development. "Knowing how important they are is all the inspiration I need."
Heckler says if he were able to look back from where he is today and offer advice to himself as a CMU student plugging away back then, he'd say, "Hey, stop a moment and look around at your fellow students. In the near future these will be global business and government leaders, designers of new systems and products that will change the life of millions, artists in all fields that will shift cultural thinking and people that will fly into outer space."
He added, "So reach out more and make more friends while you're there. Your future will be much improved by it. I wish I would have heard that from myself."
Related Links: How the Starbucks Logo was Born  |  Heckler Associates  |  School of Design  |  College of Fine Arts
---