New Shoe Design Honors Education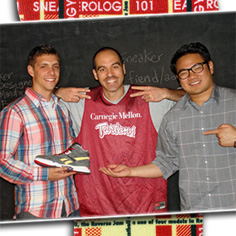 Carnegie Mellon seniors Jesse Chorng and Elliott Curtis are leaving some unique footprints behind when they graduate this spring.
The pair created the first university course on sneaker culture — Sneakerology 101, an interdisciplinary student-taught course exploring sneaker culture, shoe design, child labor issues and marketing. They leveraged the class's popularity to help victims of natural disasters and they took advantage of internships with VICE magazine and Reebok respectively.
Now they're partnering up with Reebok to offer limited edition Carnegie Mellon shoes that give back to the local community.
"Working with Reebok has been an absolute pleasure," Curtis said. "The Retro Sport Lifestyle team, especially Ben Kuchler and Matt Ting, have been incredibly supportive of the project, and they have gone to great lengths to maintain our vision for the Sneakerology Reverse Jam."
Chorng and Curtis designed the Sneakerology Reverse Jam to honor the opportunities created by education and the impact of sneakers on identity and culture.
The shoe draws inspiration from traditional education settings and Carnegie Mellon. The slate nubuck, yellow side-stripes and wool felt tongue pay homage to classroom staples — the blackboard, chalk and eraser. Carnegie Mellon's colors accent the sneaker's outsole, stitching and laces.
The theme extends to the insole, which includes a custom plaid reflecting the Scottish heritage of Carnegie Mellon founder Andrew Carnegie, an industrialist and philanthropist. Information about the history of the Reverse Jam is embedded in the insole, and the Sneakerology 101 class logo adorns the heel.
"Reebok is happy to collaborate with Carnegie Mellon's Sneakerology students for a limited edition Reverse Jam," said Matt Ting, global product manager for Men's Classics. "It's a pleasure to support young entrepreneurs and brand enthusiasts, especially on a project that furthers education, sneaker culture and philanthropy."
Only 101 pairs of the "Sneakerology Reverse Jam" shoes will be available for order at Kicksburgh, a community celebration of sneaker culture, from 6 to 9 p.m., Wed., Apr. 15, in Carnegie Mellon's Skibo Gym.
Coordinated by Sneakerology 101 students, Kicksburgh will include live demonstrations by graffiti artists, performances by breakdancers and exhibits hosted by urban fashion boutiques and local sneaker collectors. The event is free and open to the public.
The shoes, available in adult sizes, cost $75 (cash or check accepted). Orders will arrive in 8-10 weeks following the Kicksburgh event.
Reebok will donate proceeds from the sale of the shoes to the Hill House Association, a community-based organization that has provided care and support for more than 500,000 children, adults and seniors living in urban environments during the past four decades.
Hill House spokeswoman Tiffanie Williams said Reebok's support will enhance the organization's arts programs, which provide voice and piano lessons to youth and adults.
"As Carnegie Mellon students, Elliott and I were exposed to the good work done by this organization through the various students groups we were involved with on campus," Chorng said. "Since education is a central theme of this sneaker, the Hill House and its programs became an obvious choice."
The Reverse Jam project, which took approximately 10 months from concept to production, provided the students with valuable career-related experience. Curtis pitched the initial idea to Reebok's design team with graphic design assistance from Mike Pargas, a senior at Otis College of Art and Design in Los Angeles, while both students interned with the company last summer.
After graduation in May, Curtis, a social and decision sciences major, hopes to launch a fashion industry career in brand management. Chorng, an economics major, plans to pursue a graduate degree in interactive media and tangible design. Both credit their experience with Sneakerology 101 with helping them get off on the right foot.
Photo (from left to right): Elliott Curtis, Bobbito Garcia (sneaker expert/hip-hop radio host), Jesse Chorng.
Related Links: Watch Video  |  It's a Shoe-In  |  Kicksburgh  |  Hill House.org
---