Backstage with Andrew Kober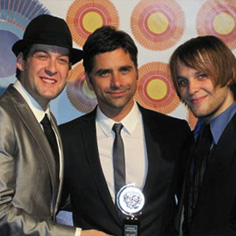 Andrew Kober (A'06) spent most of his life yearning to be a part of the Broadway community. So landing a role in the Broadway rock-musical Hair and then performing at the Tony Awards was a dream come true. Winning a Tony for Best Revival of a Musical was just icing on the cake.
"I couldn't be prouder," said the actor. Kober was one of eight Carnegie Mellon School of Drama grads who graced the Radio City Music Hall stage June 7, 2009. Joining him in the stage performances were:
Tommar Wilson (A'99) — also from Hair,
James Carpinello (A'97), Mitch Jarvis (A'99), and Paul Schoeffler (A'85) — Rock of Ages,
Megan Hilty (A'04) — 9 to 5,
David Larsen (A'99) — Billy Elliott, and
Tro Shaw (A'08) — West Side Story
Noah Mitz (A'05) was associate lighting director for the production.
"This showing says that our actors are ready for the highest level of the theater world soon after they graduate," said Don Wadsworth, professor of drama at the university.
For Kober, it was both a long and rewarding day. "Standing there at Radio City Music Hall, surrounded by some of the greatest performers ever to set foot on stage was an unparalleled honor," he said.
"We had two shows the day before, then a 7:30 a.m. call for a dress rehearsal and a 2 p.m. matinee before the actual Tony Awards show, but it was well worth it to be a part of that legacy."
Kober says the best thing about his job is that he gets to spend every night telling a story with themes that he cares deeply about: peace, freedom and equality.
"It's much more than just a gig. It's easy to find the energy to do the show eight times a week when the message means that much to me personally," he said. "Also, in my role, I get to play several different characters, which is something I felt really prepared for after doing so many different kinds of work at CMU."
Beyond the acting training he received, Kober said Carnegie Mellon gave him a solid education in the business of The Business.
"When I arrived in New York, I felt completely prepared to work professionally, and I knew just what would be expected of me," he said. "Not every conservatory program offers training in the business end of things, and I think it's absolutely vital in order to hit the ground running."
Pictured: Andrew Kober with actor John Stamos and Hair castmate Theo Stockman
Related Links: About Hair  |  Tony Awards.com  |  School of Drama
---